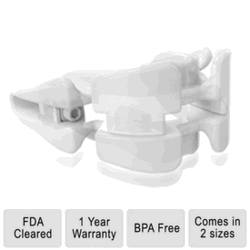 VitalSleep wants to revolutionize peoples lifes by improving their sleep.
New York, NY (PRWEB) March 31, 2013
The VitalSleep Stop Snoring Mouthpiece was conceived and developed by a physical therapist, who was also a longtime snorer. Frustrated by chronic exhaustion and fatigue, he took the advice of his dentist and began researching mandibular repositioning devices. What he found was discouraging: The offerings were prohibitively expensive for the average person. When he found himself shelling out $3000 for his device, he was troubled by the idea that this solution to snoring was out of reach for so many people. Inspired by his belief that an effective, top-quality stop-snoring device could, and should, be affordable, accessible, comfortable, and safe, he created VitalSleep mouthpiece for snoring.
Remaining true to the founder's principles, they continue to keep sight of their mission. Their core belief is that everyone deserves a deep, restorative night's sleep. It's as vital to one's well-being as water. VitalSleep's abiding mission has always been to offer the best stop-snoring solution at a price anyone can afford. They are proud to say that VitalSleep continues to honor this mission.
Dedicated to bringing people a quality stop-snoring solution, VitalSleep sources all materials in the USA and has received FDA clearance. Furthermore, VitalSleep is manufactured in the USA. This also allows them to innovate and remain responsive to customer feedback. For instance, they were recently able to respond to their customers by adding a smaller size mouthpiece to their product line in order to provide enhanced comfort to people with smaller mouths.
They have also priced VitalSleep so that it is affordable. Hidden fees, recurring charges, fine print, gimmicks, and bait-and-switch tactics go entirely against their mission to ensure that no one is denied the opportunity to sleep soundly through the night. With VitalSleep, one only pays one low price and receive free replacements for any reason for an entire year. In fact, if someone still can't afford VitalSleep, they may contact the company to discuss alternative options.
From the beginning, VitalSleep has been motivated by the desire to revolutionize people's lives by improving their sleep. This is the reason we take such pride in their quality and design, attention to detail, constant innovation, affordable prices, and personal, attentive customer service. Going forward, VitalSleep plans to always keep sight of their primary purpose to make cutting-edge anti-snoring technology accessible to all. They will continue to develop and to explore avenues of distribution and partnership, all in the interest of sharing the gift of a good night's sleep with the world.
To learn more about VitalSleep or to purchase, please visit http://www.vitalsleep.com.