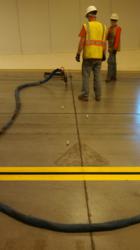 Roanoke, Virginia (PRWEB) March 31, 2013
Due to construction defects, the floor of a transfer tunnel connecting a container manufacturing facility to a food production facility started to settle. The settlement caused the floor slabs to flex and move as fork trucks drove over the joints.
The flexing joints were causing damage to the fork truck tires for the automated material handling system. The operation, which runs 24/7 could not tolerate downtime, so foam jacking was chosen for the stabilization work. Foam jacking polyurethane cures to 90% of its final strength in less than 1 minutes, so it was the perfect choice for the repair.
Concrete Jack mobilized two polyurethane injection crews to the warehouse. The total area of 16,000 square feet was stabilized using foam jacking over a period of 8 hours. The automated fork trucks operated during the stabilization work, which was along the pathway between the two facilities. Due to continuous use, the polyurethane injection was effectively load tested throughout the installation.
About Concrete Jack: Concrete Jack is a full-service concrete lifting, soil stabilization and foundation repair contractor based in Williamsburg, Virginia, and serving the east coast from North Carolina to New York.