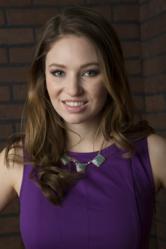 TEDx is an ideal platform to share this early education strategy to better serve our students and our country.
Phoenix, Arizona (PRWEB) March 31, 2013
Publisher and civic literacy author Annica Benning (18) is slated to address the inaugural TEDxKids, The Future We Can Build Together Conference on April 27 at the Phoenix Art Museum auditorium.
TEDx attendees are convening in a one day celebration of ideas and real world advice from some of the area's most fascinating, innovative and engaging people from the worlds of business, education, science, technology, and the arts.
Annica's presentation Empowering America's Youngest Citizens is based on her upcoming book Yes They Can! (Sutton Hart Press) wherein she calls for change in early learning to include civic literacy. Benning, whose previous work is in use by more than 200,000 students at U.S. schools, suggests young learners have the capacity to learn the fundamentals of citizenship and that waiting to teach civics until middle school misses the opportunity to lay a foundation for students to become informed and engaged citizens.
According to Annica Benning, recognized with the Congressional Gold Medal in 2012, "TEDx is an ideal platform to share this strategy to better serve our students and our country. This audience has the potential to create real change in Arizona early education and I believe they will share my belief that both our educators and Arizona students are up to the challenge."
Media Contact: maggie(at)platformstrategy(dot)com
http://www.platformstrategy.com
About Annica Benning
Annica Benning is co-founder and CEO of Walnut Canyon Press, a nonprofit publishing house that creates and distributes books and tools to enhance civic literacy in early public education. Author of the upcoming Yes They Can! Empowering America's Youngest Citizens (Sutton Hart, 2013) Annica is a political science scholar at Arizona State University and travels frequently as a professional speaker and lecturer. More: http://www.annicabenning.com
About TEDxKids Phoenix
Following TED's mission, Ideas Worth Spreading, TEDx sparks deep conversation and connections with conferences, videos, and online resources. TEDx youth events share a common vision: inspiring curiosity, igniting new ideas, and empowering young leaders to positively affect the world, each in their own distinct way.