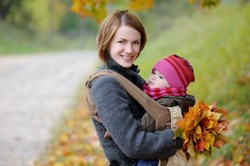 Baby's safety isn't just about the carrier you use, it is also about how you use it.
Cheyenne, WY (PRWEB) March 31, 2013
BabyGearLab.com, founded by pediatrician Dr. Juliet Spurrier, today announced the availability of two new advisory guides to help parents choose baby carriers wisely. These papers are written to assist new parents in understanding key considerations when choosing baby carriers, and analyze the health and safety of issues associated with baby carriers, such as hip dysplasia and risk of suffocation.
"The idea of wearing your baby has been around for thousands of years," says Dr. Spurrier, "yet new parents are often uninformed about differences between modern baby carriers, and how their choices may potentially affect the health of their baby." With regard to baby's health, Dr. Spurrier noted that baby's hips go through rapid development in the first year, especially the first 4-6 months, "so parents are wise to pay special attention to how their baby carrier places baby hips and legs. Pediatricians check regularly for hip development issues in infant examinations in the first year. A baby carrier that offers good ergonomics will keep babies legs at an angle, rather than dangling."
The paper title How to Choose the Best Baby Carrier, shares lessons learned from BabyGearLab's extensive 3 months test of 15 top rated baby carrier products, and pragmatic issues such as ease-of-cleaning and ease-of-use.
In paper titled Best Practice Tips for Baby Wearing, Dr. Spurrier notes that, "One key safety consideration is how securely baby is carried. A fall from chest height is very dangerous for a baby. " The article provides practical advice to help prevent falls and how provide proper support for baby's head and neck, and then goes further to examine what parents can do to reduce risk of serious issues such as suffocation and hip dysplasia.
About BabyGearLab
While practicing pediatrics in the Bay Area and pregnant with her son, Dr. Spurrier sought out a resource to help with the extensive list of purchasing decisions she had to make on behalf of her baby. Unable to find exactly what she was looking for, she started BabyGearLab.com around the time that her second child was born. Dr. Spurrier is a board certified pediatrician. She oversees review quality and personally authors content related to medical and health/safety issues in her role as Mom-in-Chief and Founder of BabyGearLab.