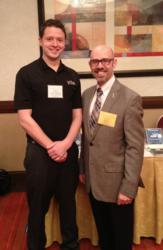 This year I got so many great ideas, I'm not sure if I'm going to have time to implement them all before next years meeting.
Berkley, MI (PRWEB) March 21, 2013
Dave Matthews and Kyle Matthews of Janet Davis Cleaners in Berkley, MI attended the Association of Wedding Gown Specialists annual convention in San Diego, Nevada February 28 – March 3. Topics for this year's meeting included how to cater to an upscale bride, how to 'green' the wedding gown process, tips for cleaning wedding gowns and much more. There was also a plant tour of Margaret's Cleaners in San Diego, CA. Speakers included Lynne DeLuca from Beverly Clark Hospitality Training, Alan Berg, recognized wedding industry expert, Sonny Ganguly, Chief Marketing Officer of WeddingWire.com and Kate Harrison, creator of GreenBrideGuide.com.
The Association of Wedding Gown Specialists is a group of professionals who specialize in cleaning, restoring, and preserving wedding gowns and other cherished items. Each preservation receives a written guarantee backed be every member of the association. In business since 1938 combined with the education, training, and networking of the group, you can trust Janet Davis Cleaners with your treasured items.
The general theme of the convention was to listen to what your customers are asking for. Don't assume, judge, or push into a pre-determined package. Brides of all ages and budgets are looking for experts to help mold their dream into their special day.
"If you attend one of these meetings and take home one great idea, it was worth it. This year I got so many great ideas, I'm not sure if I'm going to have time to implement them all before next years meeting," said Kyle Matthews. "We already are doing a great job with wedding gowns, and this will only help take us to the next level."
The plant tour at Margaret's Cleaners was focused around their bridal area, although they are a certified couture cleaner for garments of all types. They shared with members some of the tools they use to get wedding gowns clean, pressed, and perfect for their clients.
The perennial favorite part of the meetings are the round table discussions which were held Saturday afternoon. Topics included asking for reviews online, getting video testimonials, using blogging to inform and educate, methods for taking before & after pictures of wedding gowns, new cleaning methods, and more.
The association is a nonprofit trade group with members in the United States, Mexico, Canada, Australia, and South America specializing in wedding dress cleaning and bridal gown preservation.
Janet Davis Cleaners services all of your dry cleaning needs in Southeastern Michigan, with dry cleaning delivery service throughout Oakland County and Wayne County. There are locations in Berkley and Bloomfield and the company has been family owned and operated since 1938. Janet Davis Cleaners has been featured on WDIV-TV, WXYZ-TV and WDVD radio.