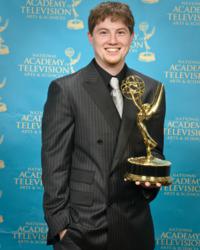 Every day I get to learn new things, be creative, and work in a fun environment.
New York, NY (PRWEB) January 16, 2013
Chris Jennings, 3DTi Alumni, won his first Emmy award for Outstanding Individual Achievement in a Craft: Graphic Design and Art Direction Category as Lead 3D Artist, for the National Geographic documentary, "Illicit: The Dark Trade". This important film examined a new kind of international crime; the illegal trade of fake medicines, dangerous weapons, and even human beings.
However, for Chris, life was not always so exciting and glamorous. He had always loved art, but drawing wasn't a medium he wanted to pursue. Chris went to college and got his BA in Graphic Design. "I interviewed for graphic design jobs and found them to be boring. I then realized I wanted to do exciting stuff with 3D visualization and special effects."
So, Chris went back to school and got his associate's degree in Digital Animation and Visual Effects. Even with all this education, he didn't feel that he had gotten all the skills he needed to advance his career. So, Chris turned to 3D Training Institute (3DTi), for help.
Chris really liked the production based program that 3DTi offered. "The online instruction was great! I had a day job. I didn't have time to go to a classroom. I liked the way that 3DTi is based on the real world. The instructors teach you how to create work based on what clients want. It really put me on the fast track in my career."
Soon after completing the program, Chris was hired as the Animation Supervisor for another documentary called "Alien Deep", where Dr. Robert Ballard, the famed explorer who discovered the final resting place of the Titanic, took viewers on a trip to discover the secrets of life that exists thousands of feet below the surface of the sea. This documentary aired on National Geographic Channel and is expected to be up for Emmy consideration in 2013.
When Chris looks back, he is very proud of the work he did at Pixeldust Studios, where he had the opportunity to help create amazing films about important subjects. He made documentary animations for Discovery, National Geographic, PBS, Military, History, and other television channels. Chris was awarded a CINE for the National Geographic special, "Egyptian Secrets of the Afterlife" and six Silver Telly Awards for additional shows. He also feels that working in immersive technology is very gratifying.
Currently, Chris works at Engility Corporation, an entity providing government services, professional and mission support to the US Department of Defense, numerous Federal and civilian agencies, and allied foreign governments. Chris's job involves creating real-time environments using 3ds max and Unity to help train military personnel on how to operate and setup their equipment in a command center. "How many people get to come home and say, 'Hey today at work, I made a virtual military command center!' Well, I do!"
Chris believes that the field of 3D animation is bursting with opportunities. "Every day I get to learn new things, be creative, and work in a fun environment. There is a huge demand for cool stuff, and in the future, augmented reality, movies and games, the new technology like Google Glasses, and 3D printing will be just the beginning. I always want to be on the first train towards new emerging technologies and 3D is going to take me there!"
About 3D Training Institute
3D Training Institute(3DTi), is the industry's leading provider of live-online, production-based training programs in Autodesk's 3ds Max, Maya, Revit, AutoCAD & Inventor software.
The training is conducted in a simulated production environment built upon its unique Learn-Practice-Work TM approach. Utilizing a focused, project-based course, students gain the expertise needed to get ready to work on real world projects.
3DTi's close ties to the animation industry, provides students with insights into the latest trends in the industry, and work opportunities. Located in New York, 3DTraining offers online courses conducted during the week end and evenings for beginners and professionals.
For more information or to obtain images, please contact Brandy Burton at (877) 746 4338 ext. 86, or e-mail: press@3dtraining.com