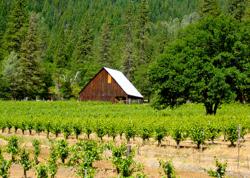 The 40-some wineries within the Shasta-Cascade have won 67 international medals and awards in the past two years...
Trinity Center, CA (PRWEB) April 01, 2013
Wine is rarely made today without electricity to power crushers, wine presses, pumps, bottling equipment and lighting. However, for Alpen Cellars in the Trinity Lakes grape-growing area of Northern California, being off the grid comes naturally.
Alpen Cellars gets its power from China Creek, a stream that crosses its property on its course to the east fork of the Trinity River. The winery is located on a 300-acre ranch, ten miles from the nearest source of power. "Power lines ran out here a hundred years ago," said Winemaker Keith Groves, "and after that ended, we started generating our own hydroelectric power.
"China Creek runs year round, providing reliable power, though the amount of electricity we generate varies according to runoff. At max, we get 3.5 kilowatts of power," said Winemaker Keith Groves, who with his father, Mark; mother, B.J.; and wife, Bonnie; produce chardonnay, white Riesling, Gewurztraminer, Pinot Noir, Pinot Gris, Merlot and Lemberger/Blaufrankisch varietals.
"We're known for our Riesling which has scents of apricots and ripe peaches, though chardonnay is our best-selling wine. It represents about a third of the 5,000 cases we produce," Groves said. Established in 1984, Alpen Cellars now distributes its varietal wines to shops from Eureka west to Burney Falls and from the Oregon border south to Corning; selections are sold in such well-known outlets as Costco and Safeway. "We're also distributed from San Francisco south to Santa Cruz," Groves added.
Many Alpen Cellars wines have won awards, including its Blaufrankisch which won double gold at the California State Fair. Described as Alpen Cellar's "richest red," Blaufrankisch is said to "start with crisp cherries and finish with ripe blueberries, lingering soft tannins coat the palate."
The 40-some wineries within the Shasta-Cascade Viticulture Association (Alpen Cellars among them) have won 67 international medals and awards in the past two years, which SCVA president Greg Butler says compares favorably with other California wine-making regions.
Estate wines are grown on 17 acres at Alpen Cellars with additional grapes coming from eight acres within Trinity County. One Maple Vineyard (Lewiston) and Alpen Cellars are the only winemakers within the Trinity Lakes AVA, one of two American Viticultural Areas in the Shasta Cascade region.
Renewable energy isn't the only aspect of Alpen Cellars that's sustainable. Groves said, "Most wineries chill their wines with a lot of refrigeration, we use ice-cold water from underground springs, instead." Of all wineries in the vast Shasta Cascade region, Alpen Cellars is the only one that's completely off the grid.
Alpen Cellars is open for public tastings from 10 a.m. to 4 p.m., Memorial Day through Labor Day, and by appointment thereafter. Directions to the winery are found at http://www.alpencellars.com or call (530) 266-9513. Wine tasting can also be experienced throughout the Shasta Cascade region with concentrations of wineries near Manton, Oroville and Chico. Moseley Family Cellars offers tastings at their location in downtown Redding.
More is found at http://www.shastacascadeviticultureassociation.org, http://www.visitredding.com and http://www.shastacascade.org. For over 80 years, the Shasta Cascade Wonderland Association has provided visitor information for northeast California.