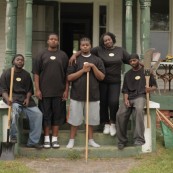 There are so many people out there doing great things that deserve the recognition.
Austin, TX (PRWEB) April 23, 2013
B>U opens their website for individuals to share their inspirational stories and healthy lifestyle tips. B>U, in its 6th month of existence, has researched and developed their own inspirational stories and now want to hear from the rest of world. Currently B>U features 24 inspiring people or groups throughout the world.
People can input their stories and tips directly from the website. B>U staff will review each submission for posting or follow up for further information and verification. Founders Matt Evans and Richard May look for stories and tips that promote self awareness, achieving dreams or a more fulfilled life.
"There are so many people out there doing great things that deserve the recognition," states Evans. "That's what B>U is here for. To share that inspiration with the world in hopes that they too will join the B>U evolution."
They say the criteria are almost limitless as long as the theme of 'a greater self means a greater world' is at the core of the submission. Submissions from across the world are also encouraged. Submissions must include photos and a higher priority will be given to those wearing a B>U shirt or cap.
"B>U" is their created brand to identify and unify people who want to do their small part to make this planet a better place to live. Currently B>U offers tee shirts, polo shirts and caps but plan to expand their line as the company grows. They compare their business to the"Life is Good" company where people display their brand as part of their philosophy and identity.
B>U's website and Facebook page feature individuals, inspirational stories and healthy lifestyle tips on a regular basis and now with their web page and Facebook page, they are giving access to anyone who feels they can inspire to do so through B>U.
The premise of the B>U philosophy is to inspire people to spend each day becoming a little bit better than they were yesterday. The site also featured inspirational and humorous quotes and people are also encouraged to post those on their Facebook page.
About B>U:
BGreaterThanU.com offers lifestyle tips, motivational quotes and features inspirational stories about individuals being greater than themselves for a better world. For more information, go to BGreaterThanU.com.