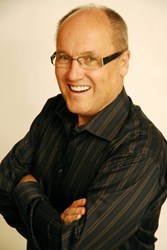 48 Days to the Work You Love
St. Louis, MO (PRWEB) April 04, 2013
President of 48 Days LLC, Dan Miller, creative thinker, speaker, writer, career / business and personal coach and author, wins the sought after "Merchant Spotlight Award" from 1AutomationWiz.com. Miller edgers out other competitors after demonstrating excellence in ecommerce while using the 1AutomationWiz.com ecommerce shopping cart system.
The "Merchant Spotlight Award is presented to 1AutomationWiz.com merchants who have done an outstanding job in one or more of the following areas:

Grown their online business in an exceptional way
Outstanding integration of 1AutomationWiz in to an ecommerce web site
Providing exceptional service & products to their customers
"We're very excited to extend this award to Dan," says Don Schnure, president of 1AutomationWiz.com. "He's an amazing guy with a huge heart and that really shows in how they've leveraged our system for their customer follow up and order processing," continues Schnure.
For its part, the Brentwood-based coaching business earned its Merchant Spotlight Award in all three different categories listed above.
"Our mission at 48 Days is to foster the process of imagining, dreaming and introspection, to help people find their calling and true path, and to translate that into meaningful, purposeful and profitable daily work," said Dan Miller. "We have a bustling online community of over 11k people at http://www.48Days.net - this has taken on a life of its own. As we scale down in some areas, we will expand in others - we look for the "Occam's Razor" approach - finding a way reach a large audience by one connection, such as in a corporation where we can work with all of the people coming through."
The 1AutomationWiz Merchant Spotlight is the highest honor and an important endorsement to consumers that merchants who win this award, demonstrate integrity, a zeal and passion for what they do and are committed to ecommerce excellence and the service of their customers.
Any company using the 1AutomationWiz.com shopping cart ecommerce system is eligible to submit nominations – public and private, for-profit and non-profit, large and small.
About Dan Miller
Dan Miller, President of 48 Days LLC online at: http://www.48Days.com specializes in creative thinking for increased personal and business success.
The author of the widely acclaimed "48 Days To The Work You Love," "No More Dreaded Mondays," and the newly released ,"Wisdom Meets Passion: When Generations Collide and Collaborate." Dan writes regularly for many popular magazines and web portals. The company sells books, audio and electronic items as well as provides career and life coaching resources including one-on-one coaching, teleseminars and live events.
About 1AutomationWiz.com
1AutomationWiz.com is the leading ecommerce automation marketing software designed for marketers who have outgrown basic email autoresponder or contact management type systems. 1AutomationWiz is powerful web-based software that combines shopping cart marketing automation, email marketing tools into a single easy to use system that small businesses don't have to patch together.
Thousands of online businesses worldwide use 1AutomationWiz to convert more leads, grow sales and save time without adding staff. For more information, visit: http://www.1AutomationWiz.com.