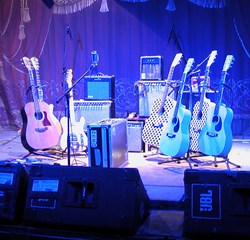 Eric Sommer - one of the most mind blowing guitar players we've seen in a long time.
- James Tarpley, Arkansas Times
Boston, MA (PRWEB) April 02, 2013
Eric Sommer and his brand of Pop Americana appear to be catching on with New Englanders.
And that is as it should be.
Mr. Sommer began his career in the Boston area and worked in record stores and print shops while playing every hole in the wall cracker-box-room, garage and VFW hall Cambridge, Somerville, Boston, Brighton and Alston had to offer.
A regular performer at the early Paradise Theatre, Eric parlayed successful solo performances at these venues into tours and appearances with everyone from Leon Redbone, John Hammond, Jr., Dr. John, and David Bromberg to Nick Lowe, Bram Tschaikovsky and Wreckless Eric. Mr. Sommer was a regular performer at Casablanca and Club Passim as well.
As founder and guitar player for Boston power trio The Atomics, shows continued in the New England area with Mission of Burma, Gang of Four and The Dead Kennedys. The Atomics held down house band stints at Cantone's and The Club in Central Square for a few years before moving on to other projects.
Since then, Eric has been touring and playing relentlessly as both a solo performer and with various ensembles and side-project bands.
Mr. Sommer has developed a combination of techniques that are unique and their application "on-the-fly" is exploratory in the audio sense: varied tuning alterations while playing, sonorous double string drones, octave overtones with enhanced feedback manipulations, volume and tone adjustments and above the fret board tones as well as lap-slap guitar in a cyclone of sound and movement that is almost gymnastic.
Eric Sommer and The Solar Flares released RAINY DAY KARMA at the end of the summer of 2012, and the mastering was done in Pittsburgh and in Nashville at Palette Productions. The record was recorded at 20 Cedar Studios in Pittsburgh, PA and features David Katilius on Bass and Matt Vaughan on Percussion. Now, promoting his new record "RAINY DAY KARMA", Mr. Sommer is back on his home turf - Somerville, Cambridge, Boston, Allston, Brighton - and playing a number of shows in the Boston area, Vermont and Pennsylvania.
Current New England Tour plans for April and May include:
April 3 @ Espresso Joe's in Keyport, NJ
April 7 @ John & Peter's in New Hope, PA
April 9 @ Sally O'Brians in Somerville, MA
April 10 @ Wicked Willys in Greenwhich Village, NYC
April 16 @ Sally O'Brians in Somerville, MA
May 3 @ John & Peter's New Hope, PA
May 7 @ Sally O'Brians in Somerville, MA
May 14 @ Sally O'Brians in Somerville, MA
May 12 @ Radio Bean in Burlington, VT
June 2 @ John & Peter's New Hope, PA
A more complete tour list is available on Mr. Sommers' main website, since this list only includes the New England dates.
For Music Samples please visit CDBaby or Eric Sommer online for additional schedules or contact him at eric(at)ericsommer(dot)com or call 202-255-1995. Additionally, you can find Eric Sommer on Facebook, too.
Eric Sommer is represented by Clyde is Thinking, and PR programs are managed thru MTG/NY; For more information, promo/appearance requests or to set up an interview, please contact Tom Monihan 202-255-1995.