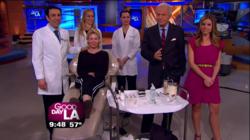 Los Angeles, CA (PRWEB) April 23, 2013
According to an April 18, 2013 report by Fox News, a desire for more masculine facial features is the latest trend in plastic surgery for men. The pert-nose-and-dainty-chin combination personified by Zac Efron and Leonardo Di Caprio is out and square jaws and ethnic features are in. (Go to: goo.gl/XGVrr)
"It's undoubtedly the case that the number of men I see in my practice is increasing," says Dr. Simon Ourian, Medical Director of Epione Beverly Hills. "Our practice doesn't maintain statistics but the 71% spike in male chin implants reported by the American Society of Plastic Surgeons and reported in the article doesn't surprise me."
The article notes that men often need to fit aesthetic treatments into their work schedules. Not only is it feasible to do some of the procedures in an hour or less but the recovery time is also minimal. Ultherapy, for example, is a non-invasive device that uses ultrasound energy to cause collagen within the skin to contract resulting in tighter skin.
Dr. Ourian notes that both gentlemen quoted in the Fox News report are in their thirties, an indication that men are no longer willing to wait until their 50's or 60's to undergo a traditional plastic surgery procedure but are taking advantage of the latest technologies to arrest the visual sign of aging while they are still relatively young.
"At Epione, we also offer a radio frequency/ultrasound treatment that can tighten the neck and jowls in one quick treatment," says Dr. Ourian.
Dr. Ourian has been a pioneer in laser technology and non-invasive aesthetic procedures including Restylane, Juvéderm, Radiesse and Sculptra. These treatments are used for the correction or reversal of a variety of conditions such as acne, acne scars, skin discoloration, wrinkles, stretch marks, varicose veins, cellulite, and others. More information about plastic surgery for men can be found on Epione's website.