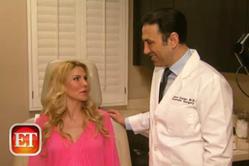 Los Angeles, CA (PRWEB) April 24, 2013
Cosmetic surgery has become an acceptable option for changing the way we look. Women can make jowls disappear, erase wrinkles, enlarge breasts, and tighten stomachs. However, according to a March 15, 2013 USA Today article, the latest and greatest in plastic surgery for women is vaginal rejuvenation. There are numerous options for women including vaginal reconstruction, labial reconstruction, clitoris unhooding and more. Women claim the procedures make sex more enjoyable for themselves and their partners. (Go to goo.gl/hSbjj)
"The increase reported in the article from zero procedures ten years ago to 60,000 annually is almost unbelievable," says Dr. Simon Ourian, Medical Director of Epione Beverly Hills. "Perhaps as the culture changes these numbers will drop, I can't say."
According to the article, age causes vaginal tissue soften, loosen and lose its color. All of these problems can be corrected with a variety of outpatient surgical procedures. During a vaginoplasty, one of the most popular procedures, the surgeon reconstructs the vaginal canal so that it is smaller, tighter and more youthful looking. The inner labia size is reduced so that they do not protrude beyond the outer labia. This recreates the look of the vagina, reversing the effects of childbirth and age.
Another procedure gaining in popularity, according to the report, is clitoral unhooding. This is similar to a circumcision in men. The clitoris is covered with a thick skin making orgasms difficult to achieve. Removing the skin exposes the clitoris and makes it easier to achieve orgasm.
"These procedures can not only make women physically and emotionally happier," says Dr. Ourian, "but also help provide benefits to those who have been affected by birth defects, vaginal trauma or disfigurement caused by disease such as cancer."
Dr. Ourian has been a pioneer in laser technology and non-invasive aesthetic procedures including Restylane, Juvéderm, Radiesse and Sculptra. These treatments are used for the correction or reversal of a variety of conditions such as acne, acne scars, skin discoloration, wrinkles, stretch marks, varicose veins, cellulite, and others. More information about vaginal rejuvenation can be found on Epione's website.