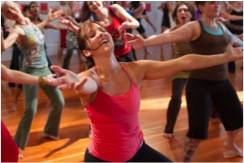 "There is nothing more powerful than dance to connect people to themselves, their body, music, community, spirit and soul. Dance provides movement to heal and stay healthy. I believe everyone wants to dance."

- Debbie Rosas, Nia Founder and CEO
Portland, OR (PRWEB) April 21, 2013
StudioNia will be hosting a StudioNia Get in Your Body and Dance Open House and a Nia Flash Mob on April 26th and 27th, 2013 offering free classes for everybody!
"We are so proud that StudioNia has put so much time and effort into organizing their Open House and flash mob," beams Cathy Graziano co-director of National Dance Week.
"It is so much in the spirit of what we are trying to accomplish during dance week as we work getting dancers together with the community to promote health awareness and the fun of getting your body moving."
According to Debbie Rosas, Nia Technique Creator & CEO, "There is nothing more powerful than dance to connect people to themselves, their body, music, community, spirit and soul. Dance provides movement to heal and stay healthy. I believe everyone wants to dance."
Debbie Rosas goes on to say she is proud to be a representative for National Dance Week, the non-profit organization founded in 1981 consisting of dance luminaries and organizations, created to gain greater recognition for dance as an art form.
StudioNIa's Get in Your Body and Dance Open House & Flash Mob will be just a part of several NDW activities from April 26th through May 5th designed to bring mainstream exposure to dance, as well as encourage people to get active and live a less sedentary lifestyle. Other major events include a country-wide flash mob being held on April 27th.
"It is so important in today's society for people- especially children- to shut off their computers and TVs and get more exercise," concludes Cathy. "Dance is a fun way to start and (Group Name) is helping lead the way. We are ecstatic with their efforts and appreciate what they are doing to help make this year's National Dance Week such a success."