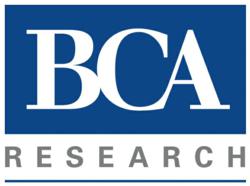 "The significant growth in both our client base and product offerings over the past decade have cumulated in the need for this new role - a Chief Strategist mandated to bring the research closer to our clients." ~ Bashar AL-Rehany, CEO
Montreal, QC (PRWEB) April 24, 2013
BCA Research, a world leading provider of independent global investment and macro research, is pleased to announce the hiring of Caroline Miller as a Chief Strategist.
Ms Miller joins BCA after five years as an Executive Director and Portfolio Manager at UBS Global Asset Management and four years as a Global Fixed Income Portfolio Manager at La Caisse de dépôt et placement du Québec.
Ms Miller will fulfill a cross functional role contributing to and shaping the BCA research view while communicating this message to BCA clients at an executive level. With a mandate to deepen and to strengthen client awareness of BCA's research, Caroline's role will include extensive global travel, meetings and conference calls.
BCA's CEO, Bashar Al-Rehany, adds: "The significant growth in both our client base and product offerings over the past decade have cumulated in the need for this new role - a Chief Strategist mandated to both contribute to our themes and house view, as well as to bring the research closer to our clients."
In addition to UBS Global Asset Management and La Caisse de dépôt et placement du Québec, Ms Miller's 20-year career in the industry has included employment at J.P Morgan (London), and Grantham, Mayo, Van Otterloo & Co. (Boston). Caroline holds the CFA designation, an MBA from INSEAD (Finance), and a Bachelor of Arts (History) from Harvard University.
Caroline will be based in BCA's Montreal, QC office.
About BCA Research:
Founded in 1949, BCA Research produces leading-edge analysis and forecasts of all the major asset classes, along with clear and focused investment strategy recommendations. Research is provided to financial professionals in more than 90 countries through a wide range of products, services and meetings.
Learn more about BCA.