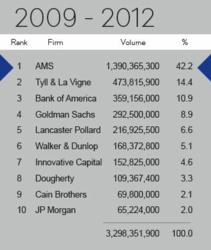 Jacksonville, FL (PRWEB) April 08, 2013
AMS Health Care Mortgage completed $97.6 million of FHA 242 insured new money transaction in 2013, representing 40% of all new deals completed in HUD's Hospital Mortgage Insurance Program last year. AMS is dedicated to providing superior service to health care clients seeking low cost, long-term, fixed rate capital.
AMS, an FHA approved mortgage lender, is consistently the leading originating banker for new FHA 242 hospital loans. Collectively, its team has more than 100 years of experience with the FHA hospital program and healthcare finance, having completed more than $8.5 billion of FHA healthcare transactions.