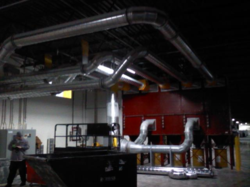 (a) Each employer --

(1) shall furnish to each of his employees employment and a place of employment which are free from recognized hazards that are causing or are likely to cause death or serious physical harm to his employees. (OSHA)
Saco, ME (PRWEB) April 17, 2013
Aquest will be showcasing air filtration equipment that will improve process efficiency and indoor air quality at the Eastec Show in May, as New England manufacturers work to expand their production facilities and upgrade process equipment.
Recent changes pertaining to OSHA and NFPA require significant thought when changing or upgrading dust, fume, and paint finishing systems. Fire protection and explosion deflagation venting are a regulatory and an insurance requirement.
Manufacturers should start by taking a look at their existing dust, fume, and paint equipment. If any dust collection unit is greater than 8 cubic feet, this equipment requires an explosion vent.
Many times, this device can be retrofitted to an existing piece of equipment and the equipment may require relocation. A secondary explosion damper (passive) should be installed on the supply side duct leading to any dust collector system.
This upgrade insures that any dust explosion would be vented to the outdoor atmosphere thus protecting workers and valuable property.
If the filtration unit is capturing wood flour and wood waste, a spark detection and suppression system is required by NFPA code and your insurance carrier. Again, these products are readily available and can be added to most existing systems.
Low cost air recirculation systems are available that allow for indoor air filtration, destratification and re-circulation within the building. High areas typically allow heated air to rise and stratify at the top of the building while the floor area remains cold.
Valuable heat escapes through the roof. Properly designed and installed recirculation systems provide filtration of airborne dust and sends this heated air back down to the floor area.
In so doing, the plant air is "mixed" and energy savings can be achieved while offering an improved work environment. These systems do not require costly ductwork or building modifications.
These units replace traditional ceiling fans that do not work and simply stir up dust throughout the facility.
For larger areas, a push-pull design allows for complete coverage and avoids overhead gantry cranes. Properly sized steel duct draws (pulls) dusty air into the filtration system. Clean exhaust air is then directed (pushed) through a fabric sock back into the building.
This design approach allows for 100% return air during winter months and, with the incorporation of an outdoor air damper, the system can be used for summer plant ventilation.
Woodshops should include quality source capture devices on working equipment. Heavy dust operation might be located in a controlled air booth whereby a backwall draws the dusty air away from the operator, through a filter wall and back into the building.
If fumes are involved, a simple gas phase carbon module can be incorporated to remove these molecular gases.
Open bag style dust collectors are inherently inefficient and allow for fine dust to escape within the facility. OSHA/NFPA mandates no more than 1/32" of dust on any 5% of the plant work surfaces.
Converting open, bag style units with small cartridge style, and automatic filter cleaning systems under 8 cubic foot volume, meet regulations and provide a higher degree of filtration efficiency.
Incorporation of these systems also reduces the potential of dust build-up in critical electrical control panels and cabinets.
OSHA now requires that vacuum cleaners be grounded and explosion proof. The recent fire at Portsmouth Naval Shipyard that resulted in a $300 million dollar loss of a submarine was traced to a fire that occurred overnight in a ShopVac.
High quality and cost effective OSHA compliant vacuum units should be utilized for housekeeping and can be incorporated on sanding tools to reduce airborne dust contamination.
Paint operations provide the high quality finish and appearance that quality clients demand. Paint booths should not be oversized and should incorporate a downflow air design whenever possible.
Any operation involving sanding or polishing stainless steel, aluminum, and titanium parts, special care must be applied.
OSHA and NFPA requires wet collectors for aluminum and titanium that cannot be mixed due to their explosive rating, and HEPA dust collectors should be considered on stainless steel to protect workers from exposure to hexavalent chromium dust and fumes.
The incorporation of a simple and cost effective downdraft table to handle these parts may suffice.
Incorporating quality air filtration design can offer improved air quality, reduce energy requirements, contribute to higher product quality, and worker protection while meeting regulatory and insurance mandates.
Aquest Corporation is New England's industrial leader in the design and installation of high quality air filtration and OSHA compliant dust control systems.
Serving industrial accounts throughout New England and New York for over thirty years, Aquest provides no cost site surveys and system upgrade recommendations.