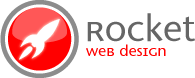 "If you need something like a Seattle web design flavor that appeals to their market, it can be tastefully done," states Brandon Anderson, Co-Founder of Rocket Web Design.
Salt Lake City, UT (PRWEB) April 26, 2013
Rocket Web Design is offering companies and individuals looking to brand their existing website or create a business website from scratch a custom web design (including a new logo) tailored to their individual business needs. The company understands the fundamental importance of websites for businesses as a means to sell products or services, brand themselves online, and establish a presence in their respective industries. For example, one may want a Seattle web design flavor that fits the respective market with vibrant messaging and modern, youthful styles.
With years of experience in the industry, they know what elements will help create a successful website for companies. With a 9 month search engine optimization (SEO) package, they are giving companies a free custom web design to help their businesses grow online.
Custom websites with powerful features:
Over the years, the company has developed an approach to website and new logo design that has proved to be successful. With a focus on simple, yet elegant layouts, the work done by their experienced team convert better leads and sales, are easy to maintain, and help a client to establish legitimacy. Again, using the example of Seattle web design, one could target specific messaging to the Washington state market or a tongue-in-cheek messaging about the rain.
Every website includes powerful and easy to use software so clients can update their content and retain independence from a typical "web guy." For those who need a new logo, one can easily be created. Every website features this powerful content management system (CMS) that gives clients the freedom to upload, manage, and control the images and text on their website.
Although the custom web design is complimentary, the quality is not forgotten...
Since every business model is different and no two companies are alike, their approach to website design is that no two presences should be the same. The company always gives clients a custom design with no templates or recycled designs. This goes back to the prime example that a Seattle web design for a music company would be completely different for a law firm in that same market.
This design promotion is only available with a 9 month SEO package, which only helps to increase a company's traffic and visibility in search engines such as Google.
For more information visit the company's website at http://rocketwebdesign.com/, which also offers many other online services such as new logo designs for companies.