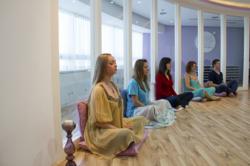 Complementary therapy offers people an in-depth personalized and usually non-invasive approach to healing, sometimes not found in orthodox Western approaches.
Dubai, Abu Dhabi, Mumbai (PRWEB) April 08, 2013
More and more women are turning to complementary therapies for their overall health and well-being.
A recent study showed that women aged between 35-54 are most likely to use complementary therapies. Complementary therapies are usually classified as those therapies which differ from more orthodox systems of Western medicine. They usually "complement," support, or replace the more orthodox systems.
Their rise in popularity in recent years has been contributed to a number of factors; growing dissatisfaction with treatment offered through mainstream methods i.e. waiting times and invasive surgeries; cost over the long term; and maintenance of health as opposed to treating a disease or long-term illness.
Illuminations work is underpinned by the principle of the strong connection between the mind and the body. Illuminations treats patients individually and holistically, and on the basis that they may support, complement, or replace completely traditional medicine. Their work is based on an integrated approach.
Illuminations work on the basis that an individual must be treated as such, and treated holistically using a range of techniques over time in a supportive environment. They believe their approach, whilst not replacing traditional Western medicine, can add to and enhance it.
Through their center in Dubai and through their partnership working across a number of platforms, Illuminations offers daily meditations, holistic training programs, private consultations, and holistic products.
Their current work features a move towards serving clients through in-house and remote technologies. They are working towards a mobile app which will keep clients linked with their therapists, even when they are not in the Dubai center.
Illuminations is a Dubai-based holistic well being center located in Jumeirah Lake Towers. The center was founded by Soniyaa Kiran Punjabi who aims to inspire and enable people to break free from fear, stress and limitations through the center's many clinics. They offer a diverse and integrated series of daily sessions, workshops and training courses to support individuals and companies.