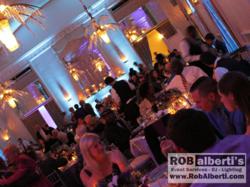 CT Wedding DJs in the New Haven Area.
Westfield, MA (PRWEB) April 09, 2013
Rob Alberti's Event Services has expanded its ability to provide services for New Haven CT Weddings as both DJ and Lighting Expert. Rob Alberti's has been servicing the New Haven area as Wedding DJs for over 25 years. With staff spread out over MA/CT/RI, they have someone nearby no matter where you live.
This New Haven CT Wedding DJ is more than just a Wedding Disc Jockey Service, they can handle all your up-lighting and venue lighting needs. They also have wedding photo booths for rental. Combining DJ, Lighting and Photo Booth services for a New Haven Wedding will save money by working with one company.
Not all lighting companies are of equal value just as with wedding disc jockeys. Here are some basic questions that you should ask about lighting for any New Haven CT Wedding.
1. Are they familiar with your wedding venue?
2. How many fixtures will they bring to your event?
3. How much output in LUX are their lights? (less than 5,000 LUX/1m) and you will not be able to see the lights unless room is REALLY DARK.
4. What are their color mixing capabilities? Red-Green-Blue-Amber-White The more LED colors, the wider the choice of colors and less likely for a rainbow color-banding effect on your venue walls
5. Are their up-lighting battery powered or AC powered?
6. Do they have the capability to wirelessly control room color?
7. Will their lighting technician be on-site throughout event?
8. Can their LEDs be placed OUTSIDE? (weather proof)
When it comes to photo booth rentals in the New Haven CT area, here are some questions you should know before securing your photo booth rental for your CT wedding.
1. Can their photo booth be setup as a booth, backdrop only (open-air) or use background of venue?
2. What type of camera is inside the booth?
3. Do they use remote flash for better quality photos?
4. Will they print copies for EVERYONE in booth (ie—if a group of 8 go in booth, will they print 8 copies plus 1 for guest book?)
5. Can guests choose color or BW prints?
6. What type of printer do they use? (Ink jet printers are slower and smudge, Dyesub printers are archival/photo quality and much faster)
7. Do they have more than 1 photo booth attendant?
8. Do they have photo booth props so guests can dress up?
9. Do they have more than a couple different varieties of props available?
10. Do they assemble a guest scrap book that night for you?
11. Do they provide a digital copy (flash drive, etc) of all images?
12. Will they up-load to on-line service or create slide show for you of all images?
Rob Alberti's has secured The Knot's Best of Weddings – 4 years and been honored with Wedding Wire's Brides Choice Award for 4 years. Their work has been featured on Style Me Pretty, in CT Wedding, Martha Stewart Wedding and Labella Bride Magazine. They have become one of the best know wedding DJs in the New Haven CT area.