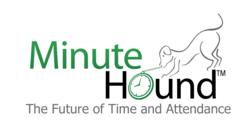 Between detailed time and attendance reports and the alert system, business owners have a foolproof and secure system on their side.
New York NY (PRWEB) April 04, 2013
Time is money. Money is time.
Most business owners find they could use more of both when running their business. It seems there are always too few hours in the day to get everything done.
Automating a company's method for managing their time and attendance system is an area where a significant amount of time can be saved, but is often overlooked. Keeping track of employee time worked, vacation and sick days, salary information and issuing payroll payments is very time consuming.
The MinuteHound biometric time clock with cloud based attendance software is exclusively designed to save both money and time. Below are five ways the patented MinuteHound time and attendance accounting system can save a business owner and employees time:
1. Time and Attendance Recording
MinuteHound's biometric fingerprint scanner allows the employee to quickly swipe their finger to confirm their identity and sign in and out of work. No manual time cards or logs to fill out. Throw away the old paper time sheets and pens, for MinuteHound is green. Employees don't have to remember pins or passwords either. Simple, accurate, and effective.
2. Proactive Alerts
The MinuteHound system allows employers and managers to setup automated alerts. An email and/or text message can be setup to alert designated groups of employee tardiness, absence or early departure from an assigned shift. Management can take measures to correct any issues before they develop.
This also provides documentation for employers who have employees with a track record of being late or leaving early. Between detailed time and attendance reports and the alert system, business owners have a foolproof and secure system on their side.
3. Payroll Reporting and Payment Processing
MinuteHound's cloud based attendance tracking software is very easy to use. At anytime, administrators can log-in and export reports. PDF, Excel, and ASCII formats are provided. Weekly, monthly, and period formats are used to help conduct payroll and find the information needed. No more manual counting or matching times. The role and expense of having a payroll clerk is no more. MinuteHound makes it easy to accurately process and keep track of payroll.
4. 24/7/365 Password Secured Web Portal Access
Because the MinuteHound system stores the payroll data in the cloud, management can access and manipulate the information via an Internet connected device at anytime and from any where. Eliminates the time needed to manage a manual time and attendance system. Office's are now virtual, allowing managers access from any location and at times they choose. Even while on vacation or playing golf, bosses and managers alike can log-in quickly and check on staff and their times.
In addition, employees can also access the portal. Employees can only view their own reports, but at all times they can view their individual digital time card. Employees can access the portal from work to ensure they clocked-in, or from home to make sure they clocked-out. Cloud access saves time and money in many ways and benefits the entire team.
5. MinuteHound software is easy to install and use. Even the actual biometric scanner is plug and play. All anyone has to do is plug in the device, download the software from any web browser, and enroll employees. A short and simple process will spark a change in any workplace from day one. No I/T staff is required. The ease of use and operation of the MinuteHound solution saves valuable employee and management time.
In addition, MinuteHound also saves business owners countless time by providing live and friendly support. Located throughout the United States, MinuteHound professionals are always available to provide assistance. Customers using the MinuteHound time and attendance reporting system have reported a 2,300 percent return on their investment. They have enjoyed savings of up to 8 percent of their annual payroll.
There are no long-term contracts, cancellation fees or hidden fees. Software upgrades are free. Save time and money with MinuteHound. Start here by visiting the time clock calculator to identify savings.
MinuteHound Contact Information
Website: http://www.MinuteHound.com
Email: info(at)MinuteHound(dot)com
Phone: (800) 351-7237