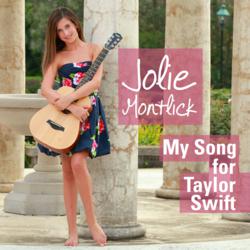 11-year-old Jolie Montlick became a YouTube sensation through her anti-bullying music video, "My Song for Taylor Swift." Jolie's video has been seen in 130 countries, attracted 2 million views and is empowering kids across the globe to use their voices.
Wilmington, NC (PRWEB) April 10, 2013
11-year old singer/songwriter and YouTube sensation Jolie Montlick has been named "Extraordinary Person Next Door" by ABC News for her exemplary efforts to stand up and speak out for other children who are being bullied. Jolie is a remarkable 11-year-old whose motto is "If you want to be happy, help someone else." In the featured segment, Jolie reveals the story behind her crusade, and how she transformed her love for martial arts and music into a major source of inspiration and hope for kids across the globe. In addition to being a National Spokesperson for an anti-bullying program, her music video "My Song for Taylor Swift," which has gone viral, is empowering kids who witness bullying to not be silent bystanders.
Jolie is a gifted singer, songwriter and YouTube music video sensation. Specifically, the 11-year-old music talent provides a heartfelt message of kindness, compassion and hope for victims of bullying across the globe in her anti-bullying music video entitled "My Song for Taylor Swift." In what is being touted as one of the most influential anti-bullying music videos ever created, Jolie's song has already impacted many kids' lives in a positive and uplifting manner. Several kids who have watched Jolie's music video report that they are going to speak up about being bullied. Others have stated that they will no longer be silent bystanders. Apparently, Jolie's message has touched the lives of more people than she ever imagined. In fact, her video has been seen in more than 130 countries world-wide and has generated an astonishing 2 million views on YouTube. It has also been used by community anti-bullying rallies to show positive examples of kids doing the right thing when faced with bullying.
Standing at just 5'1" tall, Jolie is also a Second-Degree Black Belt, two-time State Champion and Tae Kwon Do Instructor who believes that engaging in the martial arts builds confidence, honor, integrity, and most notably, positively shapes the way that people feel about themselves. The end result, according to Jolie, is that people become a less desirable target of bullies. Studies have shown that bullies tend to victimize those who do not exude the confidence and inner strength that a good martial arts program instills in its followers.
Jolie's anti-bullying efforts are not limited to just singing and writing songs about the issue. Jolie currently serves as a national spokeswoman for A4K, "The Ambassadors 4 Kids Club" (a4kclub.org), a nonprofit organization that provides kids and parents with the information they need to speak out against bullies and child abuse. Jolie is generously donating 100% of the net sales proceeds of "My Song for Taylor Swift" (available on iTunes and Amazon) to the A4K Club to help stop bullying. As best stated by Jolie, "you are never too young to make a difference." With more than 2 million views on YouTube, there is no doubt that Jolie is transforming lives all around the world. Click Here to watch the ABC News Clip.
About Jolie:
When not in school or writing music, Jolie happily donates her time and energy to helping others. She has volunteered to teach free basic self defense classes to over 1000 kids, in addition to volunteering to teach classes weekly. Last year she performed for the troops and their families at a luncheon of the Association of the United States Army, and received a standing ovation when she sang "I'm Proud to Be an American." In addition to be named "Extraordinary Person Next Door" by ABC's WWAY Channel 3 News team, Jolie was recently featured along with two Masters in the spring edition of ATA World Magazine (The official magazine of the American Tae Kwon Do Association) for her anti-bullying efforts. "My Song for Taylor Swift" and Jolie's other singles are available on iTunes and Amazon, and Jolie tells us that more are on the way. For more information about Jolie, her anti-bullying efforts and her music, visit http://www.JolieMontlick.com.