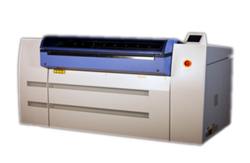 We are dedicated to educating our customers on new technology. We provide installation, service, technical support, and any other services needed to make sure your equipment is running smoothly.
Charlotte, NC (PRWEB) April 18, 2013
Platesetters.com, a market leader in digital prepress equipment, parts and services, is pleased to announce the launch of its newly revamped website. This user-friendly website is informative and provides the printing community with a portal for buying and selling prepress equipment.
Within minutes of visiting the site, users learn that platesetters is a commercial printing service provider with years of experience. With a staff of printing technology experts, Platesetters has a worldwide vendor network that guarantees they find the best equipment for their customers' business needs.
In upholding Platesetter's mission to deliver the best service, Platesetters recommends, installs and services prepress equipment. Platesetters also provides parts and replacement laser diodes to round out their services.
About Platesetters
Platesetters is a market leader in the prepress community. Developed to cater to the unique needs of its clients, Platesetters creates custom solutions that are on target and impactful.
For more information, visit http://www.platesetters.com, or call 888-380-7483.