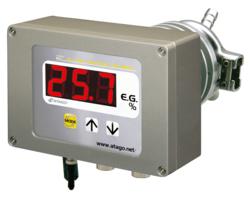 An in-process refractometer makes a fully automated, real-time monitoring of ethylene glycol freezing point and concentration possible.
Bellevue, WA (PRWEB) April 24, 2013
ATAGO's newest refractometer, the CM-780N-EG is the first in-process refractometer model that is factory-programmed with ethylene glycol freezing point and concentration scales. This innovative product promises to streamline glycol monitoring operations worldwide.
Despite a wide variety of applications, more than half of all ethylene glycol (EG) produced in the world goes to use as a heat transfer fluid of sorts. EG is most familiar to us as the antifreeze in our automobiles. Frequently purchased pre-mixed 50:50 with water, it offers a nominal range of heat and cold protection for most climates. Drivers in colder climates will often mix up a richer ratio (60:40, or even 70:30) to maintain a very low freeze point. Most HVAC technicians know their way around EG as one the most popular additives to chiller systems.
The most prevalent way to measure EG is via a refractometer, which measures the refraction (bending) of light rays through a given sample via a prism. The refraction is then translated into concentration or predicted freeze-point values for EG. Most glycol refractometers are simple hand-held unit, which are great to use as a field tester or for monitoring a chiller onboard a ship.
However, automakers, fleet managers, and stationary chiller operators often go through such a large volume of glycol that it is much more practical to mix on-site. Many of these clients automate readings and even mixing operations through the use of an in-process refractometer that measures continuously. This is a standard procedure for many metal shops where a single sump administers cutting oil to multiple tooling machines, or for a factory concerned with monitoring/diverting waste water. However, this is the first time that a unit bespoke for EG is available, straight out of the factory.
Chris Frillmann, Product Specialist at Davis Instruments, cites that clients with indoor systems are generally more concerned with obtaining a concentration/mix ratio, and those with outdoor loops (such as cooling towers) need to focus more about maintaining a sufficiently low freeze point. Most companies can't spare the personnel to run around, checking on EG time and again every day. Solutions open to the atmosphere can be subject to degradation, settling, and contamination, making more frequent monitoring a priority.
In-line refractometers can seem like expensive and intimidating investments. Indeed, many models are very precise and advanced to meet demanding or unique applications. For many operators these 2- or 3-piece instruments are a bit "over-qualified" for very basic concentration measurements, and usually carry an "over-qualified" price tag to match. An instrument to fill this niche must be compact, easy to use, and most of all, cost-efficient.
ATAGO's new CM-780N-EG addresses this with simple, seamless EG measurements. One-piece construction and sanitary 2" tri-clamp fittings keep installation swift and uncomplicated. It displays both concentration (up to 90% by volume) and freeze point (down to -50 Celsius) to keep things running smoothly. The unit is accurate to 0.4%, or 1°C – identical to the ATAGO "Pocket" PAL-91S, for those who also use handheld refractometers and wish to maintain continuity. Connecting the CM-780N EG to a PLC (via 4-20mA) can automate processes and solve problems before they become problems, so plant managers and engineers can focus on other, more pressing issues.
ABOUT ATAGO:
Since 1940, ATAGO has been the worldwide trusted brand for refractometers of all shapes, sizes and applications. The vast product line includes the "RX" laboratory models, pocket-size digital "PAL" units, and "CM" series of 1-piece, compact and versatile in-line devices specifically tailored to customers interested in simple concentration monitoring and automation, often at less than half the price of traditional in-process unit.