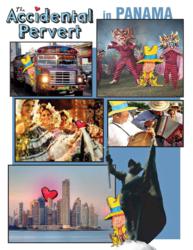 "Then I read the script and I realized ... this is the story of my life!" - Zebede
New York City, NY (PRWEB) April 09, 2013
With an ongoing 4-year run in New York City and a successful run last year in Buenos Aires, Argentina, The Accidental Pervert will begin a new production this April in Panama City, Panama.
The Accidental Pervert tells the hilarious story of an 11-year-old boy who finds his Dad's adult video collection. The play takes the audience on a real-life adventure through one boy's distorted views of sex and love, until he meets his wife and ultimately becomes a father himself.
The play will run in Panama City at the famed La Quadra Theatre, considered by many to be Panama's finest theater, and will be performed by Panamanian star Aaron Zebede.
Directed by Charles Messina, actor/playwright Andrew Goffman performs his play Off Broadway on Friday and Saturday nights in NYC. Both are excited about the opportunity to further expand the show and reach new international audiences.
"Yes, this is great news. Aaron Zebede will play me, and I'm really excited to see what he'll do with the role since he's such a great performer," says Goffman. "It will be nice seeing someone else play the part, since I have been playing with myself for so long!"
Spoken like a true Pervert!
Zebede, one of Panama's most renowned actors, has received three national awards for his theater roles and promises to bring the energy and comedy of The Accidental Pervert to new audiences in Panama.
"What made me want to perform The Accidental Pervert was at first the challenge about doing a one-person show for the first time," Zebede says. "Then I read the script and I realized ... this is the story of my life!"
Goffman said he was glad to find another actor who can relate so well to his story.
"His experience growing up and finding his Dad's pornography was very similar to what happened to me as a boy," Goffman said. "Many people come up to me after my show and say, 'Dude, that was my story up there you were telling.' "
This is the second international release of The Accidental Pervert. The play recently concluded a successful run in Buenos Aires, where it played to rave reviews and sold-out theaters.
"I'm equally thrilled about the opportunity in Panama," Goffman says. "We have a first-class theater and one of the best-known actors in Panama."
Zebede has written his own adaptation in Spanish "to include places and people in Panama who affected my life as others did in Andrew's. Once we changed that, everything else fell into place."
"New York has been a really successful starting point for The Accidental Pervert, but we're seeing a lot more interest in international productions," says Goffman. "We're perverting the whole world, one nation at a time."
If you want to see what all the buzz is about, you can find Goffman and his hit show, The Accidental Pervert, on Friday and Saturday nights at the 13th Street Repertory Theatre. Purchase tickets online or call 212-352-3101.
More information on The Accidental Pervert in Panama:

For more information please visit the show page
The show will be produced by ART and directed by Ricardo Dormoi & Aaron Zebede assisted by Thyrza Guerrero
For pictures and articles from Argentina, go to the licensing page of TheAccidentalPervert.com
-----------------------------------------------------------------------
The Accidental Pervert is a laugh-filled show with a serious underlying theme. For three years, Andrew has been entertaining sold out crowds with the story of what happened after he found his Dad's stash of adult videotapes when he was eleven years old. He takes the audience on a comic journey through his porn-influenced eyes, to reveal how his exposure to pornography overshadowed his relationships with women for many years, until he finally became a loving husband and father.
The play is also running in Buenos Aires, with additional runs planned for Panama and other points north, south, east and west of New York City and wherever Perverts are found!
The show is directed by Charles Messina.