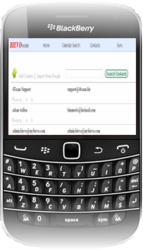 "We are delighted to offer our Blackberry customers the same full access to our Adaptive Community Calendaring System enjoyed by our iPhone and Android customers" - Lynn Hurley CEO, Bievo Software, Inc.
Concord, Massachusetts (PRWEB) April 17, 2013
Bievo LLC announces the release of Bievo Sync for Blackberry v4.3.1. Bievo is designed to bring events to you! When the designers at Bievo set out to design an event management system, they did so with the philosophy that there are several good digital calendar interfaces out there. Let's not change them but rather focus on delivering accurate calendar information to you. Contact and Calendars are now seamlessly integrated within our Adaptive Calendaring Server. The new contact management features allow you to, for example, easily find members of your kids' sports teams."
Lynn Hurley, Bievo CEO says, "By including contacts in the synchronization process, we offer the full complrment of organization to busy moms and dads. Never scramble to find a team mates contact info. If they are part of Bievo they'll auyomatically be in your phone."
Leave it to Bievo!
Bievo is the only calendar management system to have partnerships with youth sports management systems, high school & middle school sports, museums, churches, schools and other internet calendars. Just enter your programs website address or the name of the school and we will search our partner network. If the calendar is in our network, simply follow the calendar. If it is not in our network let our event managers set it up for. Or you can be the publisher of the calendar by adding it to our network for others to follow. Our network grows daily, search now to see if your calendars are part of the Bievo Cloud.
Youth Sports, Theater groups, Churches, Scouts, all these organizations can use Bievo to manage their schedules and virtually instantly push schedule updates out to members. Notify members of schedule changes through calendar updates, as well as text notifications.