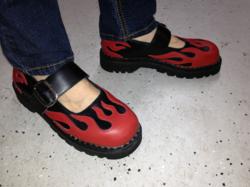 My vision for the store is to expand nationwide with local community brick and mortar stores combined with sophisticated online tools to create a local experience with the latest technology.
Portland, Oregon (PRWEB) April 12, 2013
The women's used clothing store, Shwop, opened its doors to the public with a relatively new concept in June of 2012. Since then, Shwop has experienced exponential growth and will be seeking crowdfunding to finance the expansion of the store, with considerations of taking the concept national.
Shwop is a physical storefront. The new concept in affordable clothing for women is called shwopping a form of clothes "swapping." Shwopping is a combination of SHOPPING and/or SWAPPING for women's clothing, accessories and shoes.
Shwop's tagline and motto is "SHWOP - The Smart Way to Shop and Swap."
Marci Pelletier explains, "To Shwop, or to go shwopping, at my store is a whole new way to shop for clothing. At Shwop, we have a membership based concept that is extremely popular with the local ladies. We even get women coming in from all over the state or Oregon. Our members pay an extremely affordable monthly, quarterly or annual membership fee, and then are able to swap clothes, shoes and accessories."
At present, Shwop provides high quality new clothes for women, slightly used clothing and shoes for women, "vintage chic clothes and jewelry," and a variety of sizes from young women to mature ladies.
Shwop plans to expand soon and open larger stores to accommodate a wider variety of shoppers looking to save money shopping for clothes in Portland, Oregon, and the entire US. By the end of April, shwoppers will be able to shop and swap for items for men and children too.
Shwop supports two organizations which are Shepherds Door and R.O.S.S. for 'Russian Oregon Social Services.' "ROSS is right across the street from my shop and they don't get donations in the way of having a closet so when they have a woman in need, they reach out to me," says Pelletier.
"I provide organizations with shopping vouchers based on the donations I get at Shwop. It is working out really well. As my business grows, so will the community support."
In addition to the widespread appeal of the community aspect, women use Shwop to "...get great deals on quality clothes. My store is more boutique than a thrift store." - All quote sources are from Shwop's, Marci Pelletier.
How Does Shwop Plan to Grow for the Future?
"My vision for the store is to expand nationwide with local community brick and mortar stores combined with sophisticated online tools to create a local experience with the latest technology. I am hoping to expand services so that anyone can be part of the community and take advantage of the offerings.
Right now, I'm building my brand locally and helping people as much as possible. The success of the shwopping concept has been embraced by so many who are constantly asking me to expand.
I get requests on social media and Facebook all the time to take my concept to their locations all over the country! I plan to use crowdsourcing or crowdfunding to help finance expansion and be able to serve more people and other communities."
Exact details for the upcoming Shwop expansion crowdsourcing plans soon to be released. Shwop owner invites everyone to reach on Facebook and/or Twitter. She accepts connections, and appreciated FB "LIKES" and comments to further the Shwop community.
Marci invites everyone in Portland, OR, to stop by and see the store, shwop for clothes for a one time price, or get a Shwop membership to unlock unlimited shwopping.
Shwop is currently located at 6000 SE 41st Ave Portland, Oregon 97202. 503-922-1419
About Shwop:
Shwop is a membership-based upscale gently-used boutique that facilitates swapping in Portland, OR. It is the SMART way to SHOP and SWAP all those unwanted/unused items in your closet, drawers and jewelry boxes.
Shwop store hours are Tuesday through Friday from noon to 6 pm, Saturday from 10 am to 6 pm and Sunday, noon to 4 pm. Call for directions. Directions to Shwop are also on the store website; along with questions and answers, specific details, pictures of the store and images of the women's clothes, shoes, accessories, and items for sale.
Shwop is a registered trademark of Super Brilliant Ideas, Inc.