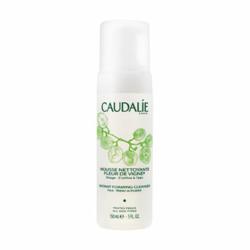 "Caudalie Instant Foaming Cleanser completely cleanses the skin of impurities and makeup as it improves the complexion."
Anaheim, California (PRWEB) April 23, 2013
SkinBeautyMall.com is widely regarded for their dedication to researching and making available the most effective anti-aging skin care products and facial creams for wrinkles in current development. SkinBeautyMall.com ensures their wide availability of skin care solutions have all been handpicked for their innovative and newly found ingredients in addition to their technological enhancements. The company is proud to present Caudalie Instant Foaming Cleanser to its family of anti-aging skin care solutions.
The Fleur de Vigne® Caudalie Instant Foaming Cleanser transforms itself from a cream to a foamy, airy cleanser to gently cleanse and condition the skin. This Caudalie cleanser was developed especially for combination skin types but is suitable for any skin complexion, even very sensitive types. With Caudalie Instant Foaming Cleanser, acne breakouts are greatly reduced, if not completely eradicated.
As a soap-free liquid face cleanser, Caudalie Instant Foaming Cleanser gives the user a pleasant, fragrant and gentle facial purification experience. The Caudalie cleanser is composed of natural grape extracts, sage, and calming chamomile, all of which work to give the Caudalie Instant Foaming Cleanser the vitamins, cleansing and cleansing benefits necessary to achieve a more radiant, youthful complexion.
With Caudalie cleanser and other Caudalie products, the company in essence recycles grape seeds, which would otherwise be simply discarded in wine vineyards. There Caudalie cleanser active ingredients found in grape seeds that are placed in the Caudalie Instant Foaming Cleanser. The grape seeds contain concentrated amounts of omega 6 fatty acids and Vitamin E, both of which are excellent anti-aging friends to the skin. These Caudalie cleanser active ingredients nourish and rejuvenate the skin, turning over skin cell generation and fighting free radical damage. This Caudalie Instant Foaming Cleanser ingredient gives the skin extra hydration. The outcome is a soft, non-oily, satiny finish for the skin.
The Esthetician at SkinBeautyMall.com, Laura Smith, says, "Caudalie Instant Foaming Cleanser completely cleanses the skin of impurities and makeup as it improves the complexion. This Caudalie cleanser has vitamins, antioxidants and other natural ingredients to soothe, cleanse and tone the skin all at the same time."
Caudalie Instant Foaming Cleanser is formulated without the inclusion of harmful parabens. There are also no sulfates, synthetic dyes, petrochemicals, phthalates, GMOs, or triclosan in this Caudalie cleanser. The Caudalie cleanser contains no animal ingredients and has not been tested on animals. The packaging of Caudalie Instant Foaming Cleanser is environmentally friendly.
About SkinBeautyMall.com:
The SkinBeautyMall.com site is dedicated to providing consumers with the latest innovations for skin care and anti-aging products that contain both breakthrough ingredients and technological advances. The products chosen for SkinBeautyMall.com are items that have been developed, clinically researched, and are used by doctors the world over to treat skin care issues. SkinBeautyMall.com offers consumers a 14-day, money-back guarantee, a 120% price protection guarantee, and free shipping. This e-commerce site also has an esthetician on call for any questions customers may have regarding its products.