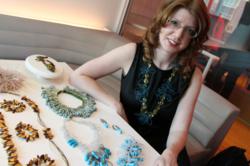 I made the decision that I really wanted to focus on New York Fashion Week, and so I put all my energy toward that goal.
Cleveland, OH (PRWEB) April 17, 2013
Ohio jewelry designer Michelle Pajak-Reynolds has made it all the way to New York Fashion Week twice and attributes her success to her sheer determination and fierce networking skills. Melissa Shea of FashionMingle.net profiled Pajak-Reynolds to get an inside look at her rising fashion design career and commitment to sharing her talent and skills to support nonprofits in her community.
On April 19, Pajak-Reynolds will judge Project MOCA: A Cinematic Fashion Competition at the Museum of Contemporary Art in Cleveland, Ohio. The event will feature top fashion talent from the Cleveland Institute of Art, Kent State University and Virginia Marti College. Students will be asked to create looks that consider the influence of cinema on fashion and femininity.
On April 20, Pajak-Reynolds will donate her jewelry to Art Cares at Cleveland Museum of Art. All proceeds of the event will support AIDS Taskforce of Greater Cleveland.
As a successful female entrepreneur, Pajak-Reynolds will also be featured on April 24 at the Female Entrepreneur Summit as a panelist for the Exploring Growth Through Business Strategies discussion.
Pajak-Reynolds has presented during New York Fashion Week for the last two years at Small Business Fashion Week and Nolcha Fashion Week, launching her debut as the jewelry designer for Ohio-based BBG Couture, who specializes in wedding and bridesmaids dresses. Michelle Pajak-Reynolds jewelry collections have been worn by stars such as Sophia Bush, Jillian Barberie, Nona Gaye, Dina Manzo, and Miss Brazil 2010 Debora Lyra, as well as featured on the cover of Grace Ormonde Wedding Style and LA Brides magazines.
It has been a long road for Pajak-Reynolds, who first created her jewelry line 14 years ago. In her interview with FashionMingle.net, she explained how she revamped her business strategies in 2012 after getting a MBA from Baldwin-Wallace University. She credits her success to the skills she learned in her entrepreneurship program combined with her networking savvy.
About FashionMingle.net
FashionMingle.net is a network for fashion entrepreneuers to share, discover, and mingle. The online magazine, business directory, and social network creates a platform for fashion businesses to promote their services and grow their business.