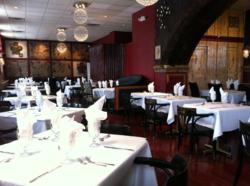 Milwaukee, WI (PRWEB) April 30, 2013
Chef Michael Feker's newest culinary endeavor, IL MITO East, is an infusion of rustic Italian tapas with Feker's unique twist on fine dining. Located in the historic Knickerbocker on the Lake, at 1028 E Juneau Ave in Milwaukee, IL MITO East offers healthy Italian/Mediterranean-inspired flavors at an amazing value -- full gluten free menus are available as well as a globally-inspired Brunch with Feker's build-your-own Bloody Mar Bar served Saturday and Sundays from 10 am to 2 pm. In addition, Chef Feker goes above and beyond to cater to his guests and the downtown business crowd with his new Corporate Catering and Office Delivery service. From a platter of fresh, homemade panini to a family style buffet to individually portioned "lunch box" offerings, IL MITO's Corporate Catering Menu features ingredients and flavorful, healthy dishes that boost energy.
"I have designed IL MITO's Corporate Catering/Office Deliveries to inspire, energize and motivate team bonding in a comfortable setting AKA your office," explains chef Feker. "Each event is customized to suit your needs and goals. Whether you are hosting a business meeting, a team event or just want an extraordinarily unique experience for your staff, IL MITO's innovative menu offerings are sure to boost your team morale and magnify your appreciation for them. I encourage you to allow the art of cooking, along with the chemistry of food, to enhance the science of how employees work and learn together, and the nuances of group dynamics. With proper nourishment and bonding over mealtime, your team will refuel their batteries and in turn increase productivity in the office."
about chef feker
Michael Feker is an accomplished chef with over 20 years of culinary experience, having studied abroad in Switzerland. He learned under the tutelage of renowned chef Roberto Gerometta and has owned restaurants in Los Angeles, Milwaukee and currently in Wauwatosa. He specializes in traditional Italian/Mediterranean cuisine and is also a culinary instructor, owning and operating CMFs Culinary School of Magic. With his vast culinary knowledge of the chemistry of foods of all cuisines, classical French training, along with world travels and experience, chef Feker is a culinary innovator who can create Regional dishes to accommodate your palate and desires.
In addition to his restaurants, Chef Feker also works as a culinary consultant to Wisconsin's Largest Healthcare Provider, Aurora Health Care, assisting them in revamping and reviving their culinary techniques and practices to bring fresh and pure foods to both patients and staff, and to hospitals in general. Chef Feker's passion for fine cuisine mixed with unique flavors gives him an indescribable talent and desire to share and teach others about cooking. His new restaurant, IL MITO East, is the most recent accomplishment for Chef Feker, who introduced his famous IL MITO brand to Milwaukee in 1997.
about il mito
IL MITO Trattoria e Enoteca is an award-winning Italian restaurant and wine bar located on the East side of Wauwatosa, Wis. The restaurant opened in 2006 and has become one of the region's most popular Italian eateries. The restaurant's owner and chef, Michael Feker, established IL MITO as a destination for simple yet robust Italian that's affordable. The menu features everything from homemade pastas and salads to signature soups, breads, cheeses and pizza, including homemade, gluten-free options.