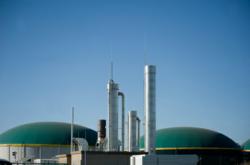 In order to meet safety standards, suppliers are responsible for accurately dosing various biogases
Healdsburg, CA (PRWEB) April 02, 2013
Application spotlight: Leading Canadian Biogas supplier Anaergia recently selected Max Machinery's Model 213 flow meter, in order to monitor odorant dosing levels, in the final step of a meticulous process: injecting Biogas into the natural gas grid.
Though odorant systems often apply stroke counters to register odorant injections, conscientious suppliers--like Anaergia-- who are tapping directly into the natural gas grid are choosing to monitor actual injected flow amounts to keep more detailed records of their safe odorizing of the gas.
In order to meet safety standards, suppliers are responsible for accurately dosing the various Biogases to ensure detection, should a gas leak occur. Positive displacement meters, like those engineered by Max, are the leading choice for odorant injection.
To protect gas quality in their pipelines, utilities are insisting that the added Biogas neither dilute their odorant levels, nor over odorize the gas stream, which could result in false alarms. To achieve these objectives, leading members of the Biogas industry are turning to Max Machinery and its 40 year history as one of the innovative leaders in positive displacement flow measurement.
As technological advances and pioneering approaches further increase the volume of Biogases available, producers are being asked to bridge the logistics gap with creative solutions. Suppliers seek to increase the market feasibility of Biogas while reducing energy and transport costs. Multiple studies have been launched focusing on the best strategies to increase efficiency so that Biogas can compete economically with fossil derived forms of natural gas. This focus has advanced the Max Model 213 Flow Meter to the forefront of the evolving process.
Making an impact worldwide, the production of Biogas, Bio SNG and Biomethane, is rapidly growing in scale and feasibility. Tapping the grid remains one of the largest challenges facing Biogas suppliers. The process of injecting Biogas directly into natural gas pipelines continues to develop , but with public demand and new tax incentives, solutions to keep up with and utilize supply are certain.
About Max Machinery:
Max Machinery, manufacturers high precision liquid flow meters based on the principal of positive displacement: gears, pistons and helical rotors (http://www.maxmachinery.com).
About Anaergia:
Anaergia provides solutions to recover valuable resources from waste streams while reducing disposal costs and reliance on conventional energy sources. Anaergia provides a proven and diverse portfolio of solutions to recover renewable energy, fertilizer and clean water from the world's waste streams (http://www.anaergia.com).