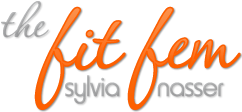 It's Way More Fun To Be A Fit Fem
Hicksville, NY (PRWEB) April 25, 2013
Sylvia Nasser, owner of the of the Fit Fem Studio, has recently launched a new online gym for women that will make them feel as if they have a personal trainer in their own homes.
The gym, which is the brainchild of Nasser, was created for women of all walks of life to get in tip top shape in the privacy and comfort of their own homes!
In a recent study, more than 50 percent of women said that they were dissatisfied with their appearance and bodies. The online gym will offer workouts that can help women get into shape and boost their confidence
Women no longer have to deal with the hassle of finding the perfect trainer or the high fees of having one. All they have to do is turn on their PC's or televisions and all their fitness needs will be met.
The online gym consists of fun yet intense fitness classes taught by Nasser which will help women lose weight and tone their bodies.
Women can take part in a number of classes on a daily basis that include the Crazy Circuit, Kickboxing and Assault Em' Abs.
The classes can be done anywhere and at anytime.
The Fit Fem Studio
Created by Sylvia Nasser, The Fit Fem, in 2010, The Fit Fem Studio is a Long Island based company that focuses on the softer, fun, yet intense side of fitness. The Fit Fem Studio offers in-home personal training, online, on-demand workouts and group fitness sessions. The business focuses on getting women healthy, but having them appreciate and embrace their bodies during the process. The Fit Fem Studio has been featured on Newsday.com, EverydayHealth.com, EHealth Radio and on Fios1News.