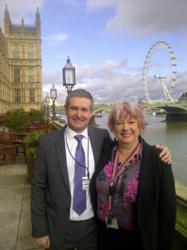 Steatite Limited MD John Lavery recently took part in a Q&A session at Westminster, with Redditch County MP Karen Lumley, discussing issues around the growth of the manufacturing industry.
(PRWEB UK) 9 April 2013
Redditch/Worcestershire, John Lavery, Managing Director of Redditch-based Steatite Limited, recently took part in a Q&A session at Westminster, to discuss issues around the growth of the manufacturing industry.
Mr Lavery joined Redditch County MP Karen Lumley and Michael Fallan, Minister of State for Business and Enterprise in the Department of Business, Innovation and Skills, to discuss key issues included employment, bank borrowing, investment for growth, export, employment law and red tape from local and national government.
As a local company employing over 90 staff, and continuing to grow through acquisitions and new business, Mr Lavery was invited to attend the House of Commons meeting along with a selection of other Redditch business leaders.
During the session, Mr Lavery addressed TUPE Law (The Transfer of Undertakings (Protection of Employment) Regulations 2006) and the difficulties encountered by small to medium sized businesses in attempting to win large contracts due to restrictions in both European and National procurement processes.
ENDS
About Steatite
Steatite provides Industrial Systems and Rugged Mobile computing platforms and integrated battery solutions for customers who demand high performance and reliability in mission critical and harsh operating environments. A market leader since 1938, Steatite's success comes from our passion and commitment to deliver high quality and reliable electronic products and services customised to your precise requirements. We place a particular emphasis on providing solutions that are built to last, and that can perform in some of the world's most demanding operating environments.
Products range from custom battery packs, electronic components, a full range of rugged mobile computers, fixed industrial computer hardware and custom embedded software solutions. With the ability to design and manufacture bespoke units to exact customer requirements, Steatite solutions are built for reliability in extreme conditions.
Sales, engineering, support and manufacturing are all based at Steatite's purpose-built 25,000 sq ft headquarters in Worcestershire, with EMC, temperature, shock and vibration test services available at the company's Oxfordshire site.
For more information, visit http://www.steatite.co.uk.