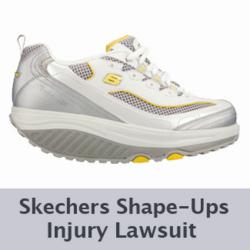 Wright & Schulte LLC, is dedicated to helping those injured by Skechers Shape-Ups receive the compensation they deserve. Call 800-399-0795 or visit www.yourlegalhelp.com today for a FREE consultation!
Columbus, OH (PRWEB) April 27, 2013
Wright & Schulte, LLC, an experienced product liability law firm, have filed a Skechers injury lawsuit on behalf of a woman from Plano, Texas. This case (Case No. 3:13-cv-00182-TBR) alleges that the plaintiff sustained multiple fractures to her right hand and leg, knocked her teeth loose and sustained a serious knee injury due to the allegedly dangerous and defective design of Skechers Shape-Ups. The extent of her severe Skechers injuries required multiple surgeries, as well as months of physical therapy.
This case was filed on January 28, 2013. As part of MDL 2308, this Skechers lawsuit will be heard in the U.S. District Court of the Western District of Kentucky, Louisville Division. As with previous Wright & Schulte Skechers Shape-Ups lawsuits, the defendants in this case have been identified as Skechers, U.S.A., Inc., Skechers, U.S.A., Inc., II and Skechers Fitness Group.
Wright & Schulte, LLC is experienced in defending the rights of those who have suffered severe injuries after using products with defective or dangerous designs and have a proven track record of successfully going up against large corporations. We welcome individuals who have been injured due to toning shoes to speak with our Skechers lawyers about a Skechers injury lawsuit by visiting yourlegalhelp.com or by calling 1-800-399-0795.
Skechers Lawsuits Continue to Rise Even after $40 Million Settlement with FTC
According to the complaint, the plaintiff bought her pair of Skechers Shape-Ups in October 201. Less than six months after wearing these toning shoes on a daily basis, the plaintiff was walking when one of her Shape-Ups rolled inwards, buckled her ankle and caused her to fall in intense pain. At the emergency room, the plaintiff was informed that she had fractured her right hand, torn her right meniscus and had knocked her front teeth loose. Upon further examination, the plaintiff was also told that she had fractured a bone in her lower leg (her tibia).
While the plaintiff had to undergo surgery to treat serious Skechers knee injury, she also had to undergo extensive oral surgery, including a root canal, to repair the damage to her teeth. Additionally, the plaintiff spent months undergoing various other invasive medical treatments to treat her other severe Skechers injuries.
Proving Skechers Negligence
To highlight Skechers alleged negligence, the complaint states that "the health risks of Skechers outweigh the absence of any benefit provided to [individuals who wear Shape-Ups]." Specifically, court documents allege that Skechers purposely misrepresented the health benefits of these toning shoes http://www.nbcnews.com/business/skechers-pay-40-million-over-deceptive-ads-775405 and that Skechers failed to conduct adequate safety testing on Shape-Ups.
In May 2012, courts agreed with these charges of Skechers negligence and ordered the shoemaker to pay the Federal Trade Commission $40 million. Specifically, the court found that Skechers had overstated the health benefits of Shape-Ups, failed to alert consumers about the possible risks associated with the unstable rocker-bottom design of the shoe and failed to perform adequate safety testing on these shoes. http://articles.washingtonpost.com/2012-05-16/business/35454807_1_lawsuits-in-multiple-courts-distraction-of-several-years-cost-and-endless-distraction.
About Wright & Schulte LLC And How To File A Skechers Injury Lawsuit
Wright & Schulte LLC, an experienced personal injury firm, is dedicated to the belief that America's legal system should work for the people. Every day, the attorneys of Wright & Schulte LLC stand up for the rights of people who have been injured or wronged by defective drugs and their side effects, complications from defective medical devices, and unsafe consumer products. We will fight tirelessly to ensure that even the world's most powerful corporations take responsibility for their actions. If you're looking for a law firm that will guarantee the aggressive and personal representation you deserve, please do not hesitate to contact Wright & Schulte LLC today. Free Skechers Injury lawsuit case evaluations are available through yourlegalhelp.com or by calling 1-800-399-0795.
Contact:
Wright & Schulte LLC
812 East National Road
Vandalia, Ohio 45377
1-800-399-0795
http://www.yourlegalhelp.com