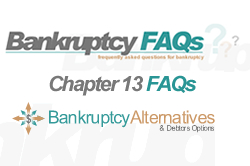 When the better technology exists, costs nothing, can be used anonymously and provides an dramatically better answer why not use it?
Pittsfield, MA (PRWEB) April 03, 2013
Financial Firebird Corporation introduces an advanced Chapter 13 Calculator to help guide people in deciding who should file chapter 13 bankruptcy. Comparing this calculator to other similar bankruptcy tools would equate to analyzing a row boat versus a battleship. Most chapter 13 calculators on the internet perform a simple mathematical calculation to divide a person's debt in to sixty payments perhaps taking onto account the trustee fee. The calculator at Financial Firebird's offers a short fast version requiring fewer fields and performing more advanced calculations. From there the Financial Firebird chapter 13 bankruptcy payment calculator goes to another level taking into account assets liabilities and state exemptions as well.
For the most simple calculation Financial Firebird's chapter 13 bankruptcy payment calculator asks four questions and one click later the viewer receives a response. Another chapter 13 program used as a comparison asked 9 fields and took 4 clicks to end up with an answer only based on a 60 month plan. While a 60 month plan may emerge as the most common, the bankruptcy court laws actually specify a range of 36-60 months. Most chapter 13 calculators ignore this whole concept and just use 60 while Financial Firebird's chapter 13 calculator knows the guidelines as figures out the proper term as well as the payment.
Users may stop at that point or answer a few more questions for an even more accurate analysis. Assets, liabilities and the debtor's state or federal bankruptcy exemption laws may throw the plan in an entirely different direction. A basic calculator may offer a payment that looks easy and affordable for someone with a reorganization plan that provided for a payment of 10 cents on the dollar for unsecured creditors. Later in the process when examining details of their assets and liabilities the courts could require 100 cents on the dollar and the debtors may realize that a filing a chapter 13 proved a very bad choice. When the better technology exists, costs nothing, can be used anonymously and provides an dramatically better answer why not use it?
Once people learn the basics about chapter 13 bankruptcy, the differences between chapter 7 and chapter 13 and they feel chapter 13 represents a good option for their situation they need to make sure they qualify. Many homeowners in foreclosure hear that a chapter 13 can automatically stop foreclosure and they rush to the courthouse and file a chapter 13 only to find that the bankruptcy laws not only require a debt repayment plan, but that in almost all cases the payments needed under a plan exceed the payments prior to the bankruptcy filing. For example a person with no credit card debt who got far behind on a mortgage without any change in income will discover that the total cash outlay under a chapter 13 exceeds the amount they already proved they could not pay by getting into foreclosure. On the other hand someone previously shelling out large sums to pay credit cards or someone who improved their income situation by getting a better job might find chapter 13 perfect. For those who want to pursue a chapter 13 the site helps to find a bankruptcy attorney, others receive help to discover a bankruptcy alternative.
Figuring out when the chapter 13 process works best centers all around the payment, and using this new chapter 13 calculator allows debtors to get a more accurate idea of what that payment might be than one could have achieved previously. Filing a bankruptcy marks one of the most important financial decisions anyone might make, it should be made with the most accurate information available.
About:
Chapter 13 FAQs and the bankruptcy payment calculator stands as a part of the Bankruptcy Alternatives family of financial information and tools web pages started in 1996 and currently offered by the Financial Firebird Corporation with a goal of providing consumers with free unbiased help from a former debt workout and bankruptcy lawyer in choosing the right path to a brighter economic future.
Bankruptcy lawyers wishing to license a co-branded version of the calculator for their own online page may contact Financial Firebird for details.