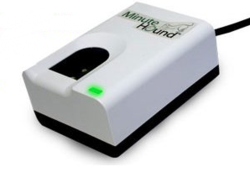 Security is a major issue with financial firms and MinuteHound's high-tech fingerprint scanner adds a welcomed level of extra security.
New York, NY (PRWEB) April 02, 2013
MinuteHound has released time clock software for financial firms. MinuteHound is a company which specializes in time and attendance software utilizing biometric technology to provide time and attendance solutions to financial firms of all sizes. Financial firms constantly strive to best position their services to maximize individuals' and companies' achievement of upward mobility. At the same time, financial firms must maintain their own profitability. MinuteHound's unique biometric attendance software can help financial firms save more than five percent on payroll costs.
Financial firm managers can now effectively reduce the risk of losing money on payroll, due to either human error or time theft, by using MinuteHound's biometric time clock system. Employers can now identify unnecessary payroll expenses from detailed reports and make appropriate adjustments to save money. Financial firm managers can use MinuteHound's reporting to rein in unapproved costs that most financial executives are unaware of.
Security is a major issue with financial firms and MinuteHound's high-tech fingerprint scanner adds a level of heightened security. Older systems, such as identification badges, are limited in their ability to provide true verification. Instead, employees at financial firms utilizing MinuteHound are only able to clock-in using foolproof fingerprint verification. This provides a measure of real security, while eliminating time card errors. This type of fingerprint recognition software is currently in use at government buildings, corporate buildings and financial institutions.
MinuteHound's fingerprint scanners are easy to set up and use. The fingerprint scanners are plug-and-play and can be connected to any laptop or desktop computer. The software runs quietly unnoticed in the background while other programs are unaffected. Fingerprint scanners can be operated up to 54-feet from a computer using extension cords, and registering employees into the system takes only a minute. The MinuteHound attendance system is a state-of-the-art security software program that is ready to use the moment it is plugged into a computer.
MinuteHound is an ideal means to monitor employee hours and activities in real-time. Financial firm executives are able to check each employee's work schedule and activities from anywhere in the world. Automated alerts can be setup to alert managers to employee schedule deviations.
MinuteHound can save financial firms money by reducing the workload of accounting personnel, because employee hourly reports are generated automatically. The MinuteHound attendance and time clock biometric fingerprinting software is ideal for financial firms with limited supervision. Regardless of a financial firm's size, utilizing the MinuteHound Time Clock system will limit the risk of human payroll errors and reduce labor costs.
MinuteHound Contact Information
Website: http://www.MinuteHound.com
Email: info(at)MinuteHound(dot)com
Phone: (800) 351-7237