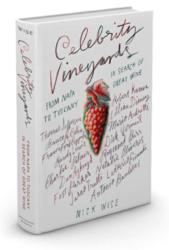 We are not interested in the highbrow, snobbish aspects of wine that seem to intimidate so many people. Wine is a joyful subject that should always be enjoyable – and enjoyed, whether drinking or reading about.
New York, NY (PRWEB) April 02, 2013
Just as Dan Aykroyd proudly proclaims his wine to be "Made from 100% Snob Free grapes," Nick Wise's "Celebrity Vineyards: From Napa to Tuscany in Search of Great Wine" dismisses the highbrow, elitist aspects of wine culture that so many find intimidating. Instead, the author puts the reader in the passenger seat for a joyful, often humorously recounted road trip to the gorgeous vineyard estates of sixteen of the world's most fascinating celebrity vintners.
If the book's verdant wine country photographs and amusing anecdotes aren't transporting enough, one need only read the deliciously descriptive Tasting Notes at the close of each chapter to feel that Wise has all but handed one a fragrant glass which from which to sip.
In the past few years, helming a winery has become an increasingly popular and deeply passionate focus for Hollywood, music and sports world A-listers. For many, their dedication to winemaking rivals the careers that made them famous.
But how involved in the actual process of making their wines are these celebrities? What was it like to get into winemaking while having a successful career in another field? Are they merely name endorsements or are they part of the incredibly difficult process of creating great wine from a field of grapes?
To find out, Wise and editor Linda Sunshine journeyed from the hills of Napa to Canada, the mountain slopes of Italy, and Spain to interview winemakers such as actors Dan Aykroyd and Antonio Banderas, composer/pianist Ludovico Einaudi, acclaimed chef Charlie Palmer, legendary football coach Dick Vermeil, champion racing drivers Mario Andretti, Randy Lewis and Jarno Trulli and even adult film star Natalie Oliveros (known professionally as Savanna Samson) and in the process, discovered dozens of world class wines.
The cabernet produced by the manager of the Doobie Brothers, Bruce Cohn, has won dozens of gold and silver awards since it was introduced more than a decade ago. Dan Aykroyd's 2007 Diamond Estate Cabernet Franc Icewine won the silver medal at the 2009 All Canadian Wine Championships. Savanna Samson Wines Sogno Uno garnered a superb 91 rating by renowned wine critic Robert Parker. Her Sogno Tre received a rating of 92 by wine critic–and "Wine For Dummies" author–Ed McCarthy.
Written for fans of wine, travel, and the rich and famous, "Celebrity Vineyards" is a fascinating journey into a world that, for most, is only a dream. Whether one is a wine connoisseur or agree with cheeky vintner buddy Dan Aykroyd–whose wine labels say, "We can't pronounce Sommelier either!"–"Celebrity Vineyards" is a fun, educational and inspiring celebration and introduction to sixteen special vineyards and dozens of great wines.
"Celebrity Vineyards: Volume Two" is in the works. Please check the "Celebrity Vineyards" website for the latest updates.
Throughout April, a clutch of exclusive wine tasting events will take place in New York, Los Angeles and the Napa Valley. Seafood for all "Celebrity Vineyards" events will be supplied by Alaska Seafood, a company dedicated to sustainable seafood.
About the Author
Nick Wise, with degrees in art and art history from Tufts and a bachelors in wine from Wine & Spirit Education Trust in London, has written seven books on popular culture subjects (Kurt Cobain, Smashing Pumpkins, Beach Boys), worked for various historic English wine and spirit companies (John Armit and Fuller, Smith & Turner), and served (2003 - 2011) as director of the wine distributor casevalue.com working closely with companies such as LVMH and Bollinger. He currently lives in London with his Parson Jack Russell, Lily.
About the Editor
Linda Sunshine is the author of more than 50 books, including The New York Times best seller, "Plain Jane Works Out," and has written extensively about Hollywood and the making of feature films. She lives in Los Angeles with her dog, Bernie.
About the Publisher:
Welcome Books® is a publisher of distinctive, exquisitely crafted visual books on a variety of subjects including art, photography, fashion, nature, travel, history, design, religion, sports, parenting, and food.