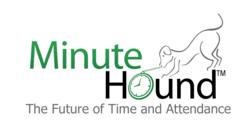 A cloud based time clock system is the next logical evolutionary step from the old punch clock attendance system still being used by companies today.
New York, NY (PRWEB) April 09, 2013
MinuteHound has just released a biometrically secured time clock and attendance system, which utilizes state of the art cloud computing software. The cloud based time clock attendance system is available now and many companies, are choosing to use MinuteHound's new attendance software rather than continue to maintain older punch-card time clock systems. As companies strive to operate at greater efficiency, MinuteHound's cloud based time clock system serves as an effective tool in securing employee data and streamlining many administrative tasks.
This new technology is suited for both small and large business. Companies are increasingly using cloud based storage for various applications. Cloud based systems keep important data secure. Because this data is online "in the cloud" it is accessible from anywhere. A cloud based time clock system is the next evolutionary step up from the old punch clock attendance system.
Now available, MinuteHound's cloud based attendance and time management system protects employees' attendance records from being lost or damaged. This technology allows companies to accomplish administrative tasks in record time.
Businesses which have switched to MinuteHound's cloud computing software, have become more efficient and are saving as much as 8-percent or more off payroll expenses. The newest biometric time clock software eliminates payroll errors, stops buddy punching, tracks employee time, and automatically produces flawless reports.
The secure attendance and time clock system turns any internet enabled device into a workstation. Using any web browser, company executives can now monitor employee time and activities at anytime and from any location in the world.
MinuteHound's secure attendance system provides businesses, regardless of industry, a foolproof way to track employee attendance, automatically saving companies money. A simple, easy-to-use biometric scanner is used by employees whenever they begin work, and then again when they log-out at the end of a shift.
MinuteHound's newly released secure attendance system saves businesses money off their payroll expenses, by requiring all employees to be physically present when starting work and before leaving work; something which cannot be guaranteed by older systems which allow fellow employees to clock each other in. Reduction in payroll cost is the main reason why companies are switching to MinuteHound's secure attendance system using cloud computing software and biometric scanning technology.
However, saving money isn't the only benefit that businesses are experiencing using the cloud based system. MinuteHound also provides flawless automatically generated records, requires no training to use, and the scanner is backed by a money back guarantee.
MinuteHound Contact Information
Website: http://www.MinuteHound.com
Email: info(at)MinuteHound(dot)com
Phone: (800) 351-7237