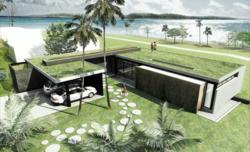 Clients get about nine submissions on average and 99% of them are delighted to receive multiple solutions to their design problems at the convenience of their fingertips!
Cambridge, MA (PRWEB) April 24, 2013
Arcbazar.com, an online company for architectural design announces a new resource that offers land owners to launch competitions for their home designs. 20 million architectural projects are annually constructed in the United States alone, 450k of them are homes built from scratch. Most of these projects are cookie-cutter homes built by local contractors and developers. When asked, most home-owners would claim preferring customized solutions for their home designs. However, the path to the architect's office is circuitous and has many unknowns. Traditionally, people ask family and friends for architectural service resources, or interview local architects through a lengthy process. Therefore, most clients avoid the trip to the architect altogether, and settle for a standard solution for their homes.
A new start-up company, out of Dogpatch Labs in the heart of the MIT campus in Cambridge, MA, claims to address the shortcomings of traditional design acquisition models with an innovative and disruptive crowdsourcing platform that facilitates online architectural design competitions. Designers from all around the globe compete and submit solutions for the design challenges. Clients can then choose the solution they like the most, based on their initial evaluation criteria.
Sandro S., a homeowner from South America, had a dream to build a bungalow at a beachfront that he had acquired in Sao Paolo, Brazil. He wanted to envision what the potential of the site is, and what different architectural design approaches one could take. He launched a competition on Arcbazar, and received about 25 submissions from all around the globe -- from architects as far as Indonesia, the United States and Europe. The submissions ranged from international modern design approaches to classical, traditional and regional solutions. "We already completed hundreds of crowdsourcing projects worldwide with thousands of design submissions and happy clients," Ana Batista, co-founder at Arcbazar says, "clients get about nine submissions on average and are 99% of the time delighted to receive multiple solutions to their design problems at the convenience of their fingertips!" Sandro was excited with the submissions he received on Arcbazar, "I'm very happy with the results… the presentation just surprised me. [The process]…is spectacular. Now I have the difficult task of choosing the best project!"