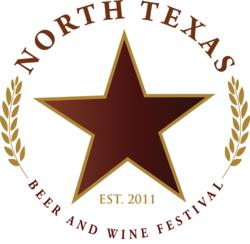 We enjoyed the music and all the other booths. Our booth was in a perfect location! Thanks so much for putting on a top notch event, we appreciate it!

Jennifer Royo
Co-Owner
No Label Brewing Co.
Irving, TX (PRWEB) April 10, 2013
From dark stouts to pale ales, it's bottoms up, as the North Texas Beer and Wine Festival makes its return Saturday, May 11, 2013at the Irving Convention Center at Las Colinas. The festival is North Texas' premier event dedicated to educating attendees about craft beers and Texas wines– and is the best place to find your new favorite.
"In 2011, we were the first beer festival in North Texas and one of only three in the whole state. Attendance more than doubled last year from 2011 and we're projecting another substantial increase this year," said Jennifer Faircloth, who along with her husband Darrell, are the organizers of the event. " This event attracts people who want to meet the brewers and winemakers, know more about how their favorites are made and choose from 100's of beers and wines to sample -- all in one place. We bring all the experts together to make for an amazing tasting experience."
Close to 100 breweries and wineries will sponsor the festival, including Imperial from Costa Rica who is this year's presenting sponsor. Other sponsors include Samuel Adams who is sponsoring the VIP event following the festival, Franconia, New Belgium, Firestone Walker and Magic Hat. The event will also feature several new breweries in the DFW market including- Four Corners, Lakewood, Community and Firewheel. From ales to lagers, pinots to zinfandels, well-known brands to newbies on the scene, all styles of beer and wine will be represented at the festival. A full list of sponsors can be found online at http://www.northtexasbeerfestival.com.
Samuel Adams will be hosting a VIP event following the festival with live music, catered BBQ and some special brews not readily available to the public. VIP tickets include the admission to the festival and a "bag of swag" including a festival shirt, hat, koozie and other goodies which round out an exciting evening for beer lovers.
Attendees will be able to rate the beers and wines they sample and People's Choice Award winners will be announced at the VIP event. This year's event will also feature the Culinary Corner, a chef stage with demonstrations on cooking with your favorite beers and wines as well as pairings. Chef John Franke of Velvet Taco will perform a culinary demonstration, as well as other local chefs.
The 50,000-square-foot main conference hall at the Irving Convention Center in Las Colinas and the second floor terrace will play host to a variety of activities, including tastings, home brewing classes and will feature close to 100 exhibitors with everything from beer and wine to home brewing kits, gourmet foods, cigars and more. The Franconia Beer Garden on the beautiful, second-floor terrace will feature musical acts the Superkings and Dallas music royalty Brian "Hash Brown" Calway and Mike Morgan will head up an all star blues jam, with Band of Brothers and Zionaura playing the Samuel Adams VIP event. Educational sessions will be held in the Brewers' Breakout, with notable brewers speaking on a variety of topics related to brewing beer, including Wim Bens from Lakewood Brewing and John Sims from Four Corners Brewing.
Designated drivers, don't despair! The North Texas Beer and Wine Festival advocates the responsible consumption of alcohol, and is particularly fond of designated drivers. A special ticket price of $20 and a wristband designating that person as a "DD" gets them into the event to not miss out on any of the fun or education. The Irving Convention Center is now served by the DART rail with a station just outside the center.
A key mission of the North Texas Beer and Wine Festival is to give back to the community. The event raised over $11,000 for their chosen charities last year including Honor Flight DFW, the Veteran Falls Memorial and the Veteran Tickets Foundation. Honor Flight DFW http://www.HonorFlightDFW.org veterans will be at the event to offer attendees the opportunity to "Handshake a Hero" and thank them for their service. Honor Flight DFW is presented by Andrews Distributing, and will also benefit from a silent auction of sports memorabilia, one-of-a-kind items from the brewers and local businesses, event tickets and more at the event. Also, tickets for the North Texas Beer and Wine Festival will be available free to veterans through http://www.VetTix.org.
The North Texas Beer and Wine Festival is Saturday, May 11, 2013, from 2 to 7 p.m. with the VIP event until 10 p.m. at the Irving Convention Center at Las Colinas at 500 W. Las Colinas Blvd., Irving, TX. Tickets are $30 on EventBrite.com (a link can be found online at http://www.NorthTexasBeerFestival.com) and $40 at the door. This all-inclusive price includes entry into all home brewing classes, keynote speakers and culinary demonstrations. In addition to entry into the event, each ticket also includes 12 beer or 8 wine samples. Additional samples, beer and wine by the glass and wine by the bottle can be purchased at the event.