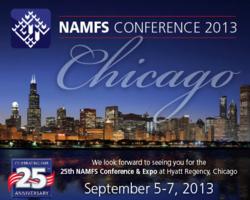 This year's 25th anniversary conference will be a reflection of NAMFS' growth promising more education, more opportunities and more networking. Adriana Farelo-Fernandez, Committee Chair
Stow, OH (PRWEB) April 02, 2013
The National Association of Mortgage Field Services (NAMFS) will be hosting their 25th Anniversary Conference and Expo in Chicago on September 5-7, 2013. NAMFS is pleased to announce this year's Keynote Address and General Session speakers, along with breakout session speakers.
Doug Dvorak, will be providing the Keynote Address - "Mega Motivation with a Twist". Mr. Dvorak assists clients with productivity training, corporate humor and workshops, and other aspects of sales and marketing management. Doug is a certified sales trainer, management consultant and corporate humorist. Doug holds a Bachelor of Arts degree in Business Administration and a Master of Business Administration in Marketing Management. But Doug's sense of humor is no less refined, as he is a graduate of the Player's Workshop of the Second City, one of the oldest and most prestigious improvisational comedy schools in the world.
Each year the Association works with its members and contacts within the government agencies to shed light on current trends and upcoming changes that impact our members. The General Session will highlight challenges, opportunities and servicing updates from HUD, FNMA and FHLMC. The HUD portion of the session will discuss MBA Working Group updates, mortgagee letter clarifications and specific concerns. The Fannie Mae (FNMA) section of the session will cover updates to FNMA servicing guidelines as well as opportunities to enhance services. The Freddie Mac (FHLMC) segment of the session will cover updates to FHLMC servicing guidelines as well as challenges related to damage reporting and limited guidelines. Finally, in support of our business resource and certification sessions the panelists will also discuss items of importance for field professionals including professionalism, communication, and handling servicing audits. The panel will include Jodi Gaines of CRFS, Sherilee Massier of Wells Fargo Home Mortgage, Nickie Bigenho of MCS, Kelly Chambers of Safeguard, Alfred Minisee of Corelogic, Candace Brooks of LPS FS, Eric S. Miller of NAMFS and more to come.
The breakout sessions on Friday afternoon, September 6th will include the following:
"Creating a Agile Organization" - Pamela Meyer will speak on how to create an agile organization. She is the President of Meyer Creativity Associates where she works with organizations internationally that want to create dynamic spaces for innovation, learning and positive change. Meyer is the author of "From Workspace to Playspace: Innovating, Learning and Changing Through Dynamic Engagement". In addition to her speaking and consulting practice, Pamela teaches courses in business creativity, organizational change, and adult learning at DePaul University, where she is also the Director of the Center to Advance Education for Adults.
"Customer Relationship Management" - Steve Stroz will demonstrate how Mortgage Field Service professionals and organizations use customer relationship technology (CRM) to save time by automating mundane tasks, track their sales and operational processes, and facilitate marketing efforts. As organizations grow these systems can be used to manage sales and service teams, ensure a uniform and excellent customer experience, and provide managers and executives with data that helps drive strategic business decisions. Steve Stroz develops contact management and Customer Relationship Management (CRM) solutions for all sizes of local, regional, and international businesses. His client list includes Fortune 500 companies, not-for-profit organizations, and government agencies. Steve holds multiple technical certifications and is a frequent speaker and instructor at industry conferences throughout North America, Europe, and Australia. In his 17 years as a technology consultant, Steve has served on product councils, advisory boards, and industry trade associations and has authored numerous technical articles and manuals. Steve is the President of Gold Coast Advisors and works and resides in Chicago, IL.
If you are interested in attending the 2013 NAMFS Conference and Expo, please visit our website for more information and registration.
About NAMFS
The National Association of Mortgage Field Services, Inc. (NAMFS) is the premier trade association for the mortgage field service industry. We are dedicated to working with all entities of the industry from the Government Agencies and investors that set policy to the contractors and inspectors that perform the work.