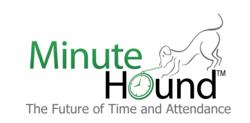 With these videos designed for the modern company, manager and employee, everyone will be kept informed of the happenings and procedures of the MinuteHound fingerprint scanning system.
New York, NY (PRWEB) April 16, 2013
"Cutting edge," "ahead-of-the-times," "modern," and "sophisticated," are terms companies use when describing their technologies. However, when employees do not know how to utilize these systems, their cutting-edge potential goes unrealized. MinuteHound now has time clock videos available to help streamline the process and heighten employee understanding of how to properly use a biometric time clock.
MinuteHound's website offers several different videos with fresh content on how to accurately use the fingerprint scanner and timekeeping system. Video titles include "The Short Story," "Clock In & Out," "Enroll Employees" and more. From understanding how to enroll employees in the system, to learning how to connect the USB scanner, these videos make installation and usage extremely easy.
Nobody wants to spend hours learning how to use a new system. MinuteHound's new videos address this reality. The longest video, appropriately entitled "The Full Story," is only seven minutes long. The others range from a quick and efficient 42 seconds ("Real Time Status") to a slightly longer, though time-considerate, one minute and 50 seconds ("Enroll Employees"). These videos are perfect for busy managers.
MinuteHound's videos speak to employees, as well as managers and owners. Using a new easy time clock especially one that involves fingerprint scanning, may raise questions in the minds of employees. A company may opt to display the full line of videos during a single employee gathering. Employees will learn how MinuteHound increases productivity, makes safety and security top priorities, and works to promote a better overall company.
Ultimately, MinuteHound's time and space efficient technology is suited to today's world. Businesses need to stay on top. They also need to keep accurate time to ensure the proper allocation of funds. With these videos, your staff will remain informed about the happenings and procedures of the MinuteHound attendance system.
MinuteHound Contact Information
Website: http://www.MinuteHound.com
Email: info(at)MinuteHound(dot)com
Phone: (800) 351-7237