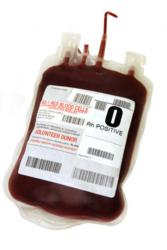 incorrect patient identification remains the biggest reason for mistakes to happen
Bolton, United Kingdom (PRWEB UK) 12 April 2013
During 2012 in England and Wales there were nearly 250 incidents where the wrong blood was given (1)
The department of health claims these mistakes "should never happen" however they do occur due to medical negligence. (1)
The four main blood groups are O, A, B and AB. Medical staff should be clear which blood type you are, and should make sure that you are compatible with any blood you receive. Giving someone blood of the incorrect type could be life threatening and you could be entitled to blood transfusion compensation via a specialist solicitor. (1)
Rebecca Gerrard, head of Better Blood Transfusion at NHS Blood and Transplant stated in a BBC news article that: "We have hardworking and professional healthcare staff involved in blood transfusion from donation right through to transfusion. However, we accept that none of us are infallible - we are all capable of making mistakes and incorrect patient identification remains the biggest reason for mistakes to happen." (2)
The statistics received by the BBC illustrate that despite it being uncommon, patients are encouraged to ask medical staff if they know who you are. (1)
The Department of Health produces a list of 'never events'. These are events that are completely avoidable and should never happen. The misidentification of patients and providing incompatible blood are on that list. If there has been a case of mistaken identity, or the incorrect blood type has been given then the patient may be able to make a blood transfusion claim.
Commenting on the news, Mr Tom Fairclough, Legal Executive at Asons Solicitors, said that:
"Despite the best efforts of NHS staff, mistakes during blood transfusions still occur, with some 247 cases having been reported across England and Wales alone. Unfortunately, for those that have been affected by incorrect blood transfusions, the only route to recompense is by making a claim for blood transfusion damages via a specialist solicitor." (2)
Asons Solicitors advises that where a friend or relative receives an incorrect blood transfusion, that a medical negligence specialist should be consulted to help determine whether or not they have been the victim of negligent care. Where poor standards of care are found to be the culprit, the victim may be eligible to claim blood transfusion damages to help cover the costs of future treatment.
(1) Blood patients told to double-check identity before treatment - http://www.bbc.co.uk/news/health-19887090 BBC - October, 2012
(2) NHSBT launches campaign to empower patients to ask 'Do you know who I am?' before blood transfusions take place - http://www.nhsbt.nhs.uk/news/2012/newsrelease081012.html NHS - October 2012
About Asons Solicitors:
Asons Solicitors is a Bolton-based law practice that specialises in personal injury and medical negligence claims. Founded by brothers Imran Akram and Kamran Akram, Asons Solicitors has developed to become a young and dynamic law firm that delivers practical solutions to clients in times of difficulty. Their continued focus on their staff has seen them awarded with the Investors in People "Gold Award"; which is reflected in the professional and personable approach they take in working with clients. They strive to grow and to develop, and their supportiveness and attention to detail ensures that their clients use them time and again.
For further information contact:
Email: info@asons.co.uk
Website: http://www.asons.co.uk