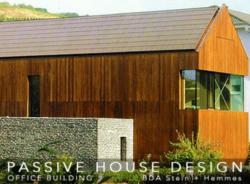 Passivhaus design will significantly lower our operating costs and create a quieter, more comfortable, and healthier interior environment," said Dr. Nathan Dikes, President and CEO of Sunshine Health Facilities
Spokane, WA (PRWEB) April 04, 2013
Spokane architect Sam Rodell AIA is designing the region's first 'Passivhaus' project for Sunshine Health Facilities, Inc.. The three story, 54 bed boarding home project will utilize proven energy-efficient technologies to significantly reduce building operating costs while enhancing interior air quality.
Scheduled for completion later this year, the structure will retain and recycle its own internal energy, forgoing conventional furnaces and air conditioning equipment and drastically reducing heating and cooling costs. Rodell says the size of the project also makes it noteworthy: "One of the first 'Passivhaus' projects in the region is not a house, but an institutional project. That is significant, because Passivhaus technology is applicable to most buildings, not just houses."
"At Sunshine Health Facilities, Inc., we are always looking at being innovative in our industry. Providing optimum housing for people who need our services requires effectively balancing many ongoing challenges and demands. Passivhaus design will significantly lower our operating costs and create a quieter, more comfortable, and healthier interior environment," said Dr. Nathan Dikes, President and CEO of Sunshine Health Facilities.
Jon Hawley, of Tamarack Ridge Construction, the general contractor for the project, believes 'Passivhaus' design will quickly gain acceptance. "As energy continues to emerge as an issue of ever increasing urgency, I believe 'Passivhaus' design and construction will become the new norm in the Inland Northwest - with Sunshine Health facilities leading the way."
Sam Rodell is an award winning architect and a Certified Passivhaus Consultant. Those interested in learning more about Passivhaus design are encouraged to visit Rodell's website, http://www.rodell.co for additional information.