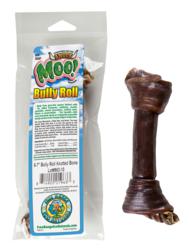 Knick-knack, Paddy-wack; Give the Dog a Bone. But now it doesn't have to be rawhide!
Shelby Township, MI (PRWEB) April 15, 2013
Pet parents can give the old familiar "go to" knotted bone dog chew without having to give rawhide.
Been wanting to go "Rawhide Free" but didn't know how? Free Range Eco Naturals can help. They've taken the ever popular Bully Sticks and Achilles Tendon dog chews, ground them to make a Bully Roll, wrapped Moo Taffy (Beef Weasand) around it and knotted the ends to make a knotted bone that dogs will love.
Ready to buy? 6" Bully Roll SRP $3.29 / 10-12" Bully Roll SRP $5.99 / 6-7" Bully Roll Knotted Bone SRP $4.29
It gets even better, because this dog treat is made entirely from the high quality Angus Beef from Argentina free-range, pasture finished cattle that have been humanely raised. Free Range Eco Naturals can be trusted for NO added hormones, steroids, antibiotics, flavors, colors or preservatives.
Free Range Eco Naturals Dog Treats, Inc. provides a complete line of natural dog chews and treats with only one, two or three ingredients including Odor-Free Bully Sticks from grass-fed, pasture finished Argentina Angus cattle.