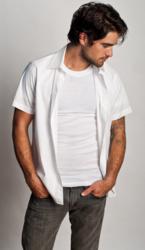 RibbedTee is the next step in undershirt evolution, combining function and fashion for the most comfortable, breathable fit that will have men's torsos thanking them.
Los Angeles, CA (PRWEB) April 02, 2013
Every fashion conscious celebrity dresses themself in the trendiest, most high-quality and high-dollar threads available, not only for the sheer comfort and style, but because they know the camera is always watching. This is precisely why top celebrities from Will Smith to Dwayne Johnson have recently been spotted wearing RibbedTee's line of fashionable undershirts. RibbedTee undershirts fit these standards in every way, excluding the fact that these superior quality and extremely stylish tees are incredibly affordable, making them the ultimate men's fashion accessory.
RibbedTee Co-founder Mike Schwarz reports that product demand is up 45% in Q1 2013 compared to the same time last year, and that celebrity support has been a large factor to the company's rapid growth.
RibbedTee is the next step in undershirt evolution, combining function and fashion for the most comfortable, breathable fit that will have men's torsos thanking them. Proudly made in the USA and constructed from the softest, most breathable natural fibers, RibbedTee undershirts are engineered to provide a close comfortable fit that keeps the body feeling cool and dry all day long. Inferior undershirts can lose their shape, begin to sag, come un-tucked and become increasingly uncomfortable from wash to wash.
Actor Will Smith sported his black crew neck RibbedTee while getting "slimed" by fans at the 2012 Nickelodeon Kid's Choice Awards in addition to being seen wearing RibbedTee on set of Men In Black 3. More recently, action star Dwayne Johnson was spotted both wearing his MicroModal RibbedTee tank top on the set of his new movie Pain & Gain and as he gave his mother a loving, thoughtful Christmas gift of a new Cadillac!
RibbedTee sets itself apart from its competitors by improving the undershirt's overall function for a close, comfortable fit that men truly want to wear, both as a base layer during the day for utility, and at night when worn alone for timeless style. This is exactly why Hollywood superstars like Danny Trejo and Mickey Rourke, who are both wearing their RibbedTee tanks in their upcoming films, Machete Kills and Sin City 2, respectively, prefer these trendy tee's to inferior brands.
With its unique design, RibbedTee's undershirts are constructed to conform to the body's shape. The longer length ensures that they remain tucked in at all times while the streamline fit prevents them from bunching around the waistline or arms. The stylish collars remain flat without sagging or stretching and each shirt is designed to maintain their shape wash after wash, ensuring the perfect fit every time.
RibbedTee has set out to solve the problems that men have with their undershirts and design a superior collection of shirts that consistently look, fit and feel better than any others in its price class, all while furthering its committed effort to produce its product line domestically in the USA. In a February 2012 article of Women's Wear Daily, creator Mike Schwarz explains that "transportation costs are kept low when manufacturing locally, while quality control and shipping time are enhanced," further increasing the overall value that customers get from purchasing RibbedTee.
Men looking for versatile undershirts that fit flawlessly every time can purchase online at RibbedTee.com. RibbedTee undershirts are available in various styles of V-Necks, Crew Necks and Tank Tops (MSRP from $20/2 to $29/1).Interested media can contact Avalon Communications at Stephen(at)avalonprgroup(dot)com.
About RibbedTee
RibbedTee designs undershirts for men who enjoy style as well as require unmatched functionality. Like many men, Mike Schwarz searched for years for a better fitting and feeling, yet affordable undershirt that he actually enjoyed wearing. Since nothing ever measured up to his expectations, he decided to create it himself. Inspired by the texture of the classic tank top, his first creation was a hybrid of the ribbed tank and a standard white tee. RibbedTee's Classic Fit undershirt was born in mid-2008 and after much success, expanded its line to include a variety of styles that can be found today. RibbedTee.com
###