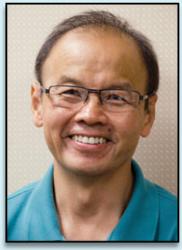 I don't just look at teeth, I try to connect with the person that's attached to them.
Horseheads, NY (PRWEB) April 18, 2013
As he sat in his office adjacent to the room with dental exam chairs and idle dental instruments, Dr. Warren Eng thought for a moment about the question he'd been asked: "What makes you different from the other dentists in this area?" He seemed uncomfortable with the idea that he could brag about his practice for a few minutes. After all, when you work in a small town, your competitors are your friends and neighbors.
In lieu of a direct answer, Dr. Eng started into a story from the early days of his business, Horseheads Family Dental Care. "Travis was just a kid," he recounted, "and I was working on his mom's teeth. He was standing next to the exam chair and I could see how curious he was by the look on his face. So I picked him up and sat him on my lap as I explained what I was doing with those strange tools in his mother's mouth."
If you get a chance to meet Dr. Eng (he prefers 'Warren' or "Doc"), you'll find out that this anecdote isn't anything out of the ordinary. He's genuinely interested in the lives of his patients; where they come from, what they have in common. And in fact, it's his passion for people and the relationships that develop that make him different from the other dentists in the area.
"I probably talk too much with my patients," he said, "but I'm really curious about them. A lot of them have even become good friends, like Scott. I've known him since he was 15 and he's always been interested in baseball. He came up through the minor leagues as an umpire and eventually got to officiate a Cleveland Indians game. He still brings his kids to the office for checkups and dental work."
When Warren was younger, he was surrounded by the occupation he'd eventually call his own. His great-grandfather was a dentist in China and when his family moved to the U.S., his uncle and neighbor were both dentists. He eventually became an associate at a small practice in the town of Horseheads, where he built a modest clientele. But 25 years ago, the owners of the practice decided to move back to their respective home practices to continue with their careers, and Warren was left with a crucial decision.
"When they said they were going to close the practice, I didn't know what I'd do at first," he remembered. "But as I thought about it, I thought it would be a great opportunity to start my own practice." And that's just what he did.
On March 7, 1988, Dr. Warren Eng moved into a newly-built plaza down the street, and he's
been there ever since. This spring will mark the 25th anniversary of Horseheads Family Dental Care, and anyone who's met, hired, or worked for Warren knows that it's his personality and warmth that keep it alive.
"I like to use an intra-oral camera to take photographs and explain things," he said, "so the patients get to see and understand what I see. It's kind of like... 'welcome to my world.'" And it's that the sort of symbiotic, doctor-patient relationship that is truly unique to his practice; the kind of thing that feels right at home for his small-town clientele.
"I don't just look at teeth," he added, "I look and try to connect with the person that's attached to them, to learn about their fears and concerns."
Sarah, for example, is a 7-year-old patient whose parents brought her to Warren about two years ago because of her apprehension around dentists. "I try to earn my patients' trust any way I can," said Dr. Eng, "so instead of using drugs to sedate her, I talked to Sarah and discovered that she's very interested in rocks. When she visited a second time, we talked about her collection and I gave her a fossil to add to it. After that, her nerves went away, her trust in me went up and she loves coming to the office to talk about rocks and get her teeth cleaned."
Horseheads Family Dental Care is located at 2898 Westinghouse Road in Horseheads, NY. It offers dental implant restorations, crowns, cosmetic and aesthetic dentistry in a stress-free environment. For more information, you can visit http://www.horseheadsdental.com or call 607-739-3528.