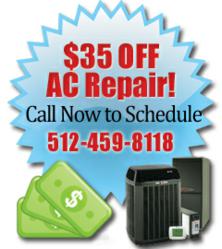 We value each of our customers and ensure that each customer gets complete satisfaction through our air conditioning repair services.
Austin,TX (PRWEB) April 05, 2013
Few things are more frustrating than turning on a central air conditioning system on a hot day only to find little to no cold air passing through the system. Most drops in air conditioner performance are due to Freon loss. One way to notice a refrigerant leak is to examine the electric bill. A system leaking just 10 percent of its refrigerant will increase electrical costs by 20 percent. Most refrigerant leaks will need to be examined and treated by licensed air conditioning professionals.
Air Conditioning System Leaks
Exposure to Freon can cause nausea, weakness, headache, dizziness and confusion. High concentrations of Freon over an extended period of time may cause damage to the lungs, liver and kidneys. The most serious side effect of Freon exposure would occur at the time of initial exposure. People who have a history of heart problems should be very concerned about Freon because it can cause an irregular heartbeat, and palpitations at very high concentrations. For people who have a history of heart problems, being exposed to small amounts of Freon from leaking appliances should not pose any significant health risk.
Fortunately, Freon does not have serious long term health consequences and it does not damage the liver. When it is inhaled, it is rapidly excreted by exhalation, and it is not significantly accumulated in the body. This means that breathing low concentrations of Freon from a leaking air conditioner over a long period of time is unlikely to have a cumulative effect, and thus few, if any, long term health effects.
If a Freon leak is discovered, contact an air conditioning repair technician for ac repairs immediately. Open up windows and doors and use fans to help move the air out of the area. Remove everyone including pets to an area of fresh air, and if someone feels any unusual health effects, seek medical care. If someone has chronic heart conditions, consider having all Freon containing appliances checked regularly for leaks.
Austin Air Conditioning Repair Check-ups
Regular maintenance checks on air conditioning and heating systems can help prevent the chance of having a Freon leak. AC Service technicians should come out a least twice a year and check the air conditioning system for any leaks and make sure the air conditioning system is working correctly. Having the cooling system checked regularly enables ac service techs to keep the ac system running as efficiently as possible, which saves the customer money on the utility bill month after month. These regular check-ups also enable the ac servicer techs to catch problems such as loose or burnt wires, and Freon leaks, before they lead to larger problems.
Austin Air Conditioning Repair Maintenance Plans
Call today to speak with a HVAC Specialist. Offering semi-annual, annual and multi-year maintenance plans, there is something for everyone. Prices vary from the type of plan and how many air conditioning and heating systems.
Air Conditioning Service, Repair or Installation
Servicing Austin and surrounding areas including: Cedar Park, Leander, Liberty Hill, Georgetown, Round Rock, Hutto, Pflugerville, Manor, Kyle, Buda, Wells Branch, Westlake, Steiner Ranch, Lakeway, Tarrytown, Clarksville, Enfield, Bryker Woods, Rosedale, Hyde Park, Brentwood, Crestview, Allandale, Brushy Creek, Bouldin Creek, Travis Heights, Barton Hills and more.
About Autumn Heating & Cooling in Austin TX
Autumn Heating & Cooling has been providing service, repairs and installation to the Austin area since 1996. Customers can feel confident that this Air Conditioning and Heating Company is fully licensed and insured for all repair, service or installs. The professional technicians take pride in the quality of work and dedication as well as years of experience in the Austin area.
For more information visit http://keepingaustincool.com