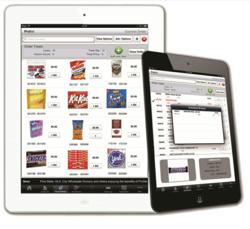 I was talking with one of our clients 2 years ago, and he just pointed to his iPad and said '[Ai2] needs to develop for this device - it's going to take over.' A couple years later he's exactly right.
CHICAGO, IL (PRWEB) April 02, 2013
Software development firm Ai2 today announced the release of a case study focusing on the methods by which it makes ProSel, an iPad app for sales order entry automation, robust enough for constant daily use. Ai2 uses Sybase SQL Anywhere as part of its ProSel solution for sales force automation and order entry on the iPad. The case study focuses on the creation of the joint solution as well as the successful implementation at one of Ai2's many ProSel clients: City Wholesale Grocery, a convenience store distributor in Birmingham, AL.
Ai2, historically a Microsoft shop, altered its course slightly to focus on development of sales force automation solutions for iPad. To sync the large amounts of data that mobile professionals in wholesale distribution require, Ai2 chose SAP and use Sybase SQL Anywhere as part of the development of ProSel for iPad. The ubiquity of the iPad in the business and consumer segments proved that the demand was there for powerful enterprise-level applications on the world's favorite tablet. "Combining our strengths was necessary to make this app the best it could be – and the best in the world," said Douglas Katich, CEO for Ai2. Ai2 is the only sales force automation app for iPad chosen by SAP to be the focus of a case study.
As Ai2 does not offer enterprise resource planning (ERP) solutions, their software must be flexible enough to communicate with any back-office system they may encounter. Sybase SQL Anywhere features a small footprint data management solution and the use of MobiLink, which permits ProSel to sync with a distributor's existing ERP solution. Perhaps the strongest feature of Sybase SQL Anywhere is the fact that it allows ProSel to operate in an online or offline environment, critical for salespeople who do not always have a 3G or 4G signal. ProSel client Michael Berro of Harold Levinson Associates, a convenience and grocery distributor covering much of the Northeast United States, agreed that "The most important tool has been the up-to-the-second data. We can let [our retail customers] know exactly what they stand with vendor programs and make sure that they are carrying all of the top selling items."
ProSel is a scalable and flexible sales solution for mobile professionals in several different wholesale distribution verticals including convenience, food, jewelry, industrial paper, janitorial supply, wine and spirits. The benefits its users report include reduced printing costs, a sharp reduction in order entry errors and virtually zero IT maintenance. According to City Wholesale's IT manager Sandy Harris, "ProSel running on the iPad empowers our salespeople to serve our customers even better. Our salespeople love the application. It is making them more productive while eliminating the need for them to lug laptops and stacks of paper with them everywhere they go. From an IT perspective, our sales reps require virtually no tech support. ProSel just works."
ProSel's core functions include order entry, quickly browsing and searching a 10,000-plus item catalog, bar code scanning for accuracy, customer buying history and enterprise content management – a digital briefcase for PDFs, images, video and other business content.
For more information on Sybase SQL Anywhere, visit the company's website.
Ai2 was founded in 1986 and is headquartered in downtown Chicago. Their applications are used by more than 75,000 users each day to capture upwards of $75 billion in annual sales. More than 10,000 retail stores and more than 1,000 movie theaters use Ai2 solutions for their order entry needs. Ai2 improves the sales process for some of the world's largest distributors in foodservice, convenience store, grocery, beverage, hardware, medical, beauty products, jewelry and more. For more information about Ai2, visit Ai2.com