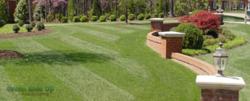 The work we do begins in our hearts, and rewards you with properly drained, healthy, colorful retreats, drives or entrances that you'll love for a lifetime.
New York, NY (PRWEB) April 06, 2013
Green Side Up Landscaping was awarded the "Best of the Best" designation for excellence by Follow Media Consulting, Inc. in the category of Richmond Landscape. This award signifies the continued commitment and dedication of the areas best in lawn maintenance and renovation services.
Green Side Up is a full service landscaping contractor locally owned by Craig Attkisson (B.S. Turf Grass, Horticulture), Bill Gallagher (A.S. Agronomy) and Jim Gallagher (A.S. Agronomy). These three owners all have one vision: to create enduring outdoor living spaces in balance with nature that surround the senses with seasons of colorful low-maintenance beauty.
Choosing Green Side Up means clients get year-round attention to anything their yard requires. As a licensed and insured Class A full-service landscape contractor, Green Side Up has a deep-seeded interest in the ongoing success of a client's property value. To them, if it's outdoors, it all needs to stay up.
Green Side Up's original hardscape living spaces refresh the outdoor experience with all new possibilities. Anything a client can dream of extending outdoors…more privacy, oases of relaxation, al fresco dining, swimming, stargazing, family sports, celebrations and more, Green Side Up can bring home.
Call them today at 804-514-4610 to discuss landscaping needs and dreams or visit their website at http://www.gsulandscaping.com/ for more details on their service.
About Follow Media Consulting, Inc.
Named one of the best SEO companies by Jonas Marketing, Follow Media Consulting, Inc. is a rapidly growing worldwide firm of SEO, Social Media, and Mobile Marketing Professionals. Follow Media Consulting, Inc. headquarters is located in Richmond, VA. However, our professional team is networked across the world, with regional offices across the United States, in the United Kingdom, Canada, Australia, France, South Africa, the Philippines, and India.