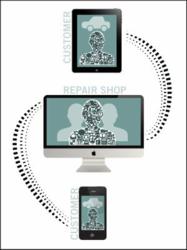 "It's a great tool for customers to get to know us, schedule appointments, and receive preliminary estimates." Owner Elite Auto Collision Member TopShops Network
San Diego, CA (PRWEB) April 23, 2013
Finding a good local body shop isn't always easy but getting a repair estimate doesn't have to be. Before doing business with a shop most customers want to establish a sense of trust. Collision repair is a foreign experience to many, and customers need personal interactions to know their car is being left in good hands.
Elite Auto Collision is one local body shop offering a way to show the damage on the car via Skype and get an instant estimate. An added benefit is face to face time, which increases comfort with the person on the other end of the line.
Skype is a free online resource for video-based communication. Although personal interactions and technology usage are seemingly contradictory ideas, this is a way to satisfy both.
Customers can get to know the staff person who can answer their questions, handle their job, schedule an estimate appointment, or simply get a preliminary estimate by phone. Instead of taking a photo, emailing it to the shop and waiting for a response, customers can call via Skype, turn their phone to the car, and acquire a visual inspection immediately. It's a pretty simple process.
Getting started with Skype is easy. Visit skype.com to create an account and user profile. Make sure the phone is Skype compatible. (iPhone and Android are examples of compatible phone systems). After having signed up one is able to make a video call with other registered Skype users for free. Just type in the screen name of the business to call, for example, "eliteautocollision," and chat with a rep sitting at a computer screen during normal business hours.
Located in Old Town La Mesa. Elite boasts14K Sq.ft. facility, Car-o-Liner 3D frame laser measurement, & access to ALLDATA vehicle manufacturer databases. We use vehicle manufacturer authorized repair procedures only. No guessing. Legitimate and safe collision repairs every time. Daily repair status updates to your mobile device. Online video estimates. Free pickup and delivery of passengers and vehicles. Secure parking and early bird drop box. Free or low cost late model courtesy vehicles available.